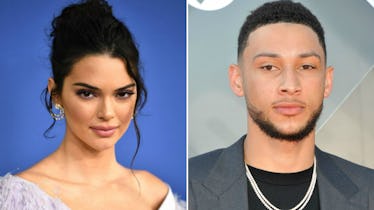 Here's How Kendall Jenner & Ben Simmons Spent His Birthday Together & It's Beyond Sweet
Dimitrios Kambouris/Getty Images Entertainment/Getty Images | Allen Berezovsky/Getty Images Entertainment/Getty Images
Are Kendall Jenner and Ben Simmons getting serious? While there's been no solid confirmation that the two are dating, they do seem to be seeing more and more of each other. In fact, Simmons' birthday was just a few days ago, on July 20, and Jenner was on hand to wish him a happy and healthy one. And there's video evidence! If nothing else, this video of Kendall Jenner singing Ben Simmons "Happy Birthday" will make you believe they're going to be the couple of the summer.
In the video, which was posted by The Shade Room on July 20, you can see Simmons sitting in front of his birthday cake as his pals sing "Happy Birthday" to him. Jenner who's been the subject of dating rumors for months now, sits beside him. She's all smiles and even gets a bit cuddly with Simmons after he blows out the candles.
Overall, Jenner seems totally smitten with Simmons and she's got that look of love in her eyes. He, on the other hand, is simply trying to play it cool.
This video, more than anything so far, has made Jenner fans and celeb-obsessed folks alike believe that the two are in the thick of a new romance.
Here's a look at the sweet birthday video:
Just two weeks ago, on July 4, Jenner was spotted getting cozy with Simmons at her sister Khloé Kardashian's party. Kardashian posted this video on her Snapchat:
With this video, fans got an unexpected sneak peek into Jenner's rumored romance with Simmons. Both seem totally at ease with each other and Jenner is especially comfortable cuddling with Simmons.
On July 11, People magazine published a report in which a source close to Jenner opened up about the rumored relationship.
Jenner is reportedly "very protective" of her relationship with Simmons and, unlike her sisters, wants to keep her personal life to herself.
"She's being very private about her relationship with Ben," People's source said. "Kendall's really different from her sisters in that sense."
In the report, the source also revealed that Jenner dislikes that everyone talks about her personal life.
"She honestly doesn't want people talking about who she's dating and is very protective of her personal life," the source said. "She hates the attention and it's been annoying that the drama with Tinashe has come up."
The drama in question here pertains to singer-songwriter Tinashe, Simmons' ex-girlfriend. Back in May, Page Six reported that Tinashe's brother, Kudzai Kachingwe, accused Simmons of cheating on Tinashe with Jenner.
"Never met you before in my life," Kachingue tweeted about Page Six's report that Jenner and Simmons were dating. "Days after u break my sis heart u do this." Elite Daily reached out to Simmons' and Tinashe's teams about Kachingue's allegations, but did not hear back by the time of publication.
Needless to say, his tweet blew up and caused a host of problems for Jenner, Simmons, and Tinashe. The three have been running into each other at various events, causing people to speculate that Tinashe is stalking them, which she denies.
There's been lots of drama surrounding Jenner's relationship with Simmons, so it's no wonder she's been keeping things quiet!