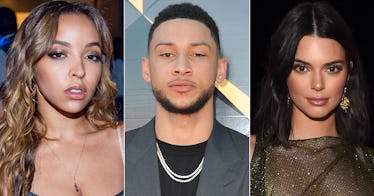 Ben Simmons Reportedly Thinks Tinashe Is Following Him & Kendall Jenner & It's Creepy
Roy Rochlin/Getty Images; Antony Jones/Getty Images; Allen Berezovsky/Getty Images
First, Ben Simmons' ex showed up at the same nightclub as him and told reporters — on video! — that he was texting her while they were inside. "He's texting me, what the hell?" she said. "What's he doing? What an idiot!" Then afterward, she reportedly admitted she made the whole texting thing up. And now, the NBA star may actually ramp up his security, because Ben Simmons thinks Tinashe is following him and Kendall Jenner, his new unofficial girlfriend. Elite Daily reached out to Tinashe and Simmons' team for comment on the report, but did not hear back by the time of publication. But, OMG what is even happening here? If it's true, this whole situation is just so bizarre. Like, who lies about someone texting them? Way to have zero chill!
Oh, and get this: Sources close to Simmons reportedly told TMZ that Tinashe's been rolling up on the regular everywhere he goes with Jenner. Like when all three of them were at Delilah in West Hollywood on July 5. Sounds like a fun time, right? Not really. I mean, things must have gotten super-weird in there, because Simmons and Jenner split shortly afterward. And now, the baller is apparently convinced Tinashe can't accept the fact that he's moved on with his supermodel GF, and so she's trying to keep tabs on them by following them around everywhere like it's 1990 or something and she can't just stalk them on social media like the rest of the world. Like, who actually goes places to stalk someone anymore? That's so Lindsay Lohan infiltrating the Plastics in Mean Girls.
Meanwhile, according to TMZ, Ben now thinks the "Flame" singer has become so obsessive that he needs more security around him since he doesn't want to take any chances with Jenner. And you know what? That's actually pretty chivalrous and cute. Or, like, way overprotective. It's all in how you choose to look at it, you know?
Anyway, Jenner and Simmons have been linked for a few months now. It was right around Memorial Day when rumors first started swirling that the Philadelphia 76er and Keeping Up With The Kardashians star were a thing, with Page Six reporting on May 29 that the two had been dating "for a few weeks."
More recently, the pair was spotted hanging out at the Waldorf Astoria hotel pool in Beverly Hills last week over the Independence Day holiday, where they were reportedly drinking margaritas in their own private cabana. "Kendall and Ben were getting cozy in the hot tub," a source told Entertainment Tonight. "They snuggled up and looked happy together!" I mean, I would too if I had my own private cabana and was a few margaritas in, you know what I'm saying?
They were also kicking it at Khloé Kardashian's Fourth of July pool party, and if Kenny took her man to meet the fam things must be getting serious, right?
Not so fast. Because according to Us Weekly, the pair "are dating and exclusive, though not official." A source told the publication that while Jenner and Simmons are "still hanging out quite a bit" and "are pretty inseparable at the moment and are still going really strong," the reason they are not official is that Jenner's super-busy work schedule.
"Her work and travel schedule is pretty insane," the source said, "so for her to commit to anyone at this point in time isn't necessarily realistic. She's being young and having fun. There's no label on her and Ben. She's just living life with no commitments."
Even so, Tinashe should probs keep her distance. Because labels or not, if she really is popping up everywhere K.Ben are, that's seriously not cool and totally, just like, against the rules of breakups. Seriously, Jenner has got to be so annoyed by the whole freaking sitch. So here's an idea... You just let it out, honey.