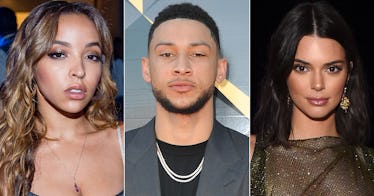 Ben Simmons' Ex Tinashe Says He Was Texting Her While Out With Kendall Jenner & I'm Shook
Roy Rochlin/Getty Images; Antony Jones/Getty Images; Allen Berezovsky/Getty Images
Talk about awkward! Ben Simmons and Kendall Jenner were reportedly out partying in the same club as the Philadelphia 76er's ex-girlfriend Tinashe on July 5, and OMG I wish I could have been a fly on the wall. I mean, all three of them were reportedly at Delilah in West Hollywood, so things must have gotten weird in there, you know? Simmons and Jenner split first, followed shortly after by Tinashe. And get this: Tinashe claims Ben Simmons was texting her while he was out with Jenner, and there's actually a video. I am so shook. Elite Daily reached out to Jenner's, Simmons', and Tinashe's teams for comment on the report and Tinashe's claims, but did not hear back by the time of publication.
Now, to be clear, there's not a video of Simmons actually texting Tinashe. But there's a video of Tinashe leaving the club and saying he was texting her that you can watch over on TMZ. See, the "Flame" singer was on her way out of the club when a reporter from TMZ asked if she saw Simmons and Jenner inside. "I did!" she said, then she held up her phone. "He's texting me, what the hell? What's he doing? What an idiot!"
Uh, you think? Jenner and Simmons have been linked for a few months now, and they just looked so cute together like five freaking minutes ago at Khloé Kardashian's Fourth of July pool party with the whole fam. Check them out canoodling in the back there.
They look super-comfortable together, don't they? So why oh why would Simmons start texting his ex? Of course, Tinashe didn't say WHAT he was texting her, so I'm gonna go ahead and give Simmons the benefit of the doubt here, because maybe he was just all, "Yo, I need my Icon Edition road game jersey back," and not all, like, trying to slide into her DMs, or whatever.
Jenner and Simmons were also spotted hanging out at the Waldorf Astoria hotel pool in Beverly Hills over the holiday week, where they were reportedly drinking margaritas in their own private cabana because life is good when your a supermodel and a baller. "Kendall and Ben were getting cozy in the hot tub," a source told Entertainment Tonight. "They snuggled up and looked happy together!"
According to Us Weekly, the pair "are dating and exclusive, though not official." Elite Daily reached out to Jenner and Simmons' teams for comment on the reports about their relationship status, but did not hear back by the time of publication. Exclusive, but not official? I literally have no idea what that means. Like I get what "dating and not official means," and I get what "dating and exclusive" means. I'd even understand if they were "official, but not exclusive." But "exclusive, though not official?" I don't get it and I'm not buying it.
Although, I guess it does kind of leave an opening for Simmons to text his ex if he feels like it every now and then, doesn't it? Even so, the same source told Us Weekly that Ken and Ben — K.Ben? — "are still hanging out quite a bit" and "are pretty inseparable at the moment and are still going really strong," and that the reason they are not official is due to Jenner's super-busy work sched.
"Her work and travel schedule is pretty insane," the source said, "so for her to commit to anyone at this point in time isn't necessarily realistic."
I hear that! Let's just give the girl a minute, okur? After all, it was only a little over a month ago when rumors first started swirling that Simmons and Jenner were a thing, with Page Six reporting on May 29 the two had been dating "for a few weeks." So it's not like they've been together forever, you know? I happen to live in Philly so I totally ship these two as a couple, and I really do hope they make the move from "exclusive, but not official" to "exclusive AND official" one day. But in the meantime, let Ben text whoever he wants — you just go do you, Kenny!