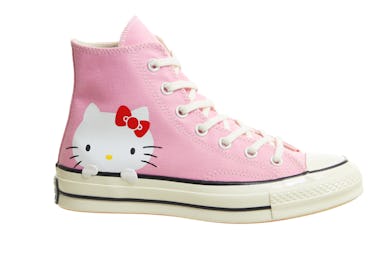 These New Hello Kitty x Converse Sneakers Are The Cutest Style Of The Summer, Paws Down
If there's one country that knows how to do sublime cuteness in the most covetable of ways it's hands down Japan, with South Korea coming in as a close second. Case in point: the new Hello Kitty x Converse sneakers, which feature Japan's most loved and adorable feline mascot and will surely make your heart melt with just one glance.
In Japan, cuteness isn't just something reserved for babies or a noun used here and there in passing. Rather, it's an actual culture. Called kawaii, it can refer to everything from handwriting and fashion to toys and actual people, and is used to describe things as charming, darling, adorable, and even childlike. It makes sense, then, that some of the most delightful little cartoon creatures around were all created by Japanese artists including Gudetama, a lazy and depressed egg yolk; Aggretsuko, an introverted red panda; and, of course, Hello Kitty, the world-famous cat who really needs no introduction.
I am a 26-year-old adult and I've got to admit that Hello Kitty and the other aforementioned characters still strangely appeal to me. In high school my best friend had a hello kitty waffle maker and throughout college I heated up my Top Ramen in my Hello Kitty microwave. When I go to music festivals I arrive armed with sheets of Hello Kitty stickers to give out. Why has this strange childish obsession lasted? I'm not sure, but I'm not alone in my love for the little cat. Brands including Yohji Yamamoto and Lazy Oaf have realized her worldwide reach and collaborated with Sanrio on kitty-emblazoned products and now, Converse is following in their footsteps.
The famed footwear retailer has launched a pair of classic Chuck Taylor All Stars featuring none other than Hello Kitty on their sides. The shoe comes in a bubblegum pink hue and features a classic cream toe cap, cream laces, cream midsole, and silver hardware. Kitty, red bow and yellow nose and all, peeps out from above the footbed. As if that wasn't cute enough, when you flip the shoes over you'll be greeted with a translucent sole from under which red bows show through. It's clear every detail was thoroughly thought through to make the shoe kawaii AF, no matter which angle you view it from.
The style is available on Offspring's website now for $105, which is a small price to pay for top-notch cuteness.
If Hello Kitty isn't your thing but Converse is, check out the brand's other recent releases. Earlier this week they dropped a collection of pastel ombré styles in both high-top and low-top silhouettes, and earlier this month they collaborated with British designer J.W. Anderson on a collection of high-gloss styles that look more like glass sculptures than they do wearable sneakers.
Essentially, no matter what your aesthetic is there's a Chuck Taylor out there for you. And the fact that they're all way more affordable than every other sneaker release worth noting out there is simply the cherry on top.