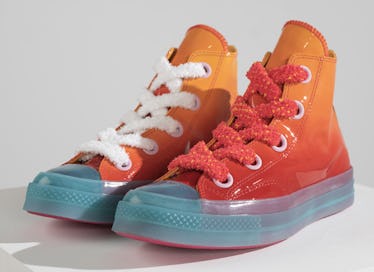 Converse Just Released The Coolest, Glossiest Shoes Of 2018 & They Have Fuzzy Laces
Converse
It seems like there's a new sneaker release every day. From styles covered toe to heel in glitter to those boasting rainbow treads, sneakers have never been bolder or brighter — or more numerous. But the new J.W. Anderson x Converse "Toy" sneaker collection is a step above other recent releases in every way possible and is therefore one you definitely don't want to let slip between your fingers... or should I say toes.
If you're a Converse junkie then you might remember the collaborations J.W. Anderson has done with the brand in the past. Known for his bright, imaginative designs that play with color, experimental techniques, and proportion, the British designer is no stranger to lending his creative vision to America's most iconic shoe. Most recently, Anderson reimagined the classic Chuck Taylor style by giving it a two-tone glitter treatment for his spring 2018 collection. And in late 2017, Chuck Taylors featuring Anderson's full name in a grid pattern hit the market. Both styles are certainly head-turning and unique new flavors to the classic Converse style, but neither come close to the newest collaboration between the brands that's just been announced. If you're into all things shiny, fuzzy, and ombré, then you're about to swoon over what's to come.
The collaboration, which has been dubbed a "Toy" capsule, features four new wonderfully oddball takes on the Converse Chuck 70, two of which are low-tops and two of which are high-tops. The styles, which boast a liquid-like sheen, were inspired by Anderson's obsession with art, specifically Ron Nagle's sculptures. Abstract, colorful, and often featuring high-gloss elements, the sculptures certainly resemble this new collaboration — it's easy to see how they were referenced during the design process.
Each shoe features patent uppers, with those of the high-top styles featuring an ombré color effect; fuzzy laces, which were inspired by San Francisco's colorful stucco houses; and colorful rubber soles, which serve as vivid contrasts to the rest of the shoes. They each boast a finish akin to what a sucked-on piece of candy looks like and in themselves are wearable pieces of art. Appropriately, Anderson has signed each little masterpiece with his stamped initials on the heel.
My personal favorite color way features a mainly millennial pink shoe, semi-translucent midsole, and blue sole. Red hardware adds an extra graphic pop of color, while pink fuzzy laces flecked with red accents give it an awesomely sweet mid-aughts vibe.
The other pair of low-tops comes in a purple-ish blue hue that reminds me of what the sky looks like right before a huge storm. They have semi-translucent orange mid soles and shockingly bright yellow soles, while their fuzzy laces are a bright white and their hardware is black.
The first pair of high-tops looks like an ocean sunrise in a shoe thanks to its beautiful orange and red ombrè color way that's grounded with a light blue midsole. White hardware adds a fresh pop of crispness, while laces are available in both classic white or orange-flecked red.
Finally, there's the army green ombré high-tops that are completed with a black midsole, orange sole, and black hardware. Dark green laces featuring lighter flecks of a moss green are available, as are the standard white option.
All styles within the collection will be available to shop on Nike.com on July 19, so you've only got to wait a few more days to snag a pair of your own. At $140 for the low-tops and $150 for the high-tops, they're an absolute steal when it comes to designer collabs. Forget about Nike, Adidas, or Reebok—the coolest sneaker release of 2018 is hands-down by Converse.