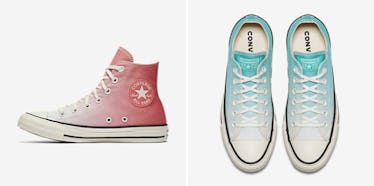 Converse's New Pastel Ombré Sneakers Are Officially The Dreamiest Shoes Of The Summer
Converse
If the scores of candy colored sneakers that have come out as of late have piqued your interest, you're about to have another style to add to your wish list. Converse's pastel ombré Chuck Taylors are all kinds of ethereal and dreamy and are giving other summer footwear releases some serious—and affordable!—competition.
Just weeks ago, Converse dropped a collection of high-gloss styles in collaboration with British designer J. W. Anderson. Featuring an almost patent sheen, fuzzy flecked laces, and eye-popping color ways, they're hands down the most unique take on classic Chucks that I've ever seen. They were inspired by literal pieces of art—sculptures by Ron Nagle, a favorite visionary of Anderson's, to be exact, so you can imagine they had an exceptionally creative and innovative look to them. Although they remain my favorite Converse styles to date, I must say they aren't the most practical nor the most wearable. Their color palettes, while gorgeous, would make them pairable only with very specific outfits (at least for my style) and their almost rubbery consistency might not result in optimal comfort. Then again, I haven't actually ever worn them; these are just my assumptions so take them with a grain of salt.
Nonetheless, this is where Converse's newest release, a collection of five new styles, comes in. Available in an array of ombré shades, the classic Chuck Taylor high-tops and low-tops got a summer-perfect update that sets them apart from the classic all-black style but they're still insanely wearable . Each pair still features the standard cream-colored eyelets, cream laces, and matching rubber toe caps to match, but their various color ways are what set them each apart.
For high-top offerings, you have the choice between the "Punch Coral" color way and the "Mason Blue" color way. The former option softly fades from a deep coral at the heel into a cloudy white at the toe, while the latter starts off at a dusty royal blue before similarly fading into white.
The low-tops come in three equally drool-worthy color ways. There's "Storm Pink," which fades from a super light baby pink into white; "Pure Teal," which fades from an oceanic teal into white; and "Light Blue," which appears to me to feature more of a periwinkle shade than a true blue.
Thanks to their white toe caps, lace details, and midsoles, each style is grounded in a neutral color, which would make pairing them with outfits a breeze.
If you wear a lot of denim the blue tones will be especially easy to style. Each low-top shoe also features a Converse patch on its tongue to match its color way, while each high-top style features a matching patch on its side.
The shoes are currently available for purchase at Converse.com, with the high-tops retailing for $60 and the low-tops retailing for $55. Yes, they're beyond affordable for a specially stylized shoe, so snag a pair of your own today to wear with distressed jeans, floral dresses, striped rompers, or the like.