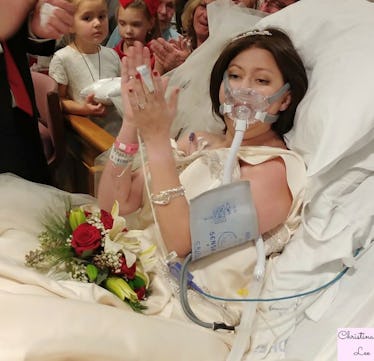 This Woman Who Battled Cancer Married The Love Of Her Life Just Before She Died
If A Walk to Remember was your favorite '90s movie, break out the tissue box, because I have a story that will put Landon and Jamie's to shame. A photo of a patient getting married in Hartford, Connecticut's St. Francis Hospital just a few days before Christmas has gone viral, and the beautiful story behind it will bring you to tears. The bride in the photo, Heather Mosher, married her husband before succumbing to cancer just 18 hours after the photo was taken.
Heather met her husband, David, two years ago when the two decided to take the same swing dance class in May 2015, according to WFSB Eyewitness News. The two instantly clicked and began dating. "We were just kind of inseparable after that," David told WFSB Eyewitness News.
On Dec. 23, 2016, the couple got some unfortunate news that would change the course of their lives forever: Heather was diagnosed with breast cancer. Little did Heather know at the time, David had already planned on proposing to her, and he certainly didn't let Heather's diagnosis affect his decision. In fact, according to him, it convinced him more than ever to follow through with it. "She didn't know I was going to propose that night, but I said to myself, she needs to know she's not going to go down this road alone," David said.
That night, after Heather received her diagnosis, David gave her something to smile about by following through with a proposal straight out of a fairy tale. "A pair of draft horses, a carriage, and I arranged it all for that night. We went out on the carriage ride and I proposed to her under a street light," David explained.
Unfortunately, even after the fairy tale proposal, Heather's health continued to decline. Just five days after her original diagnosis, the doctors told her that the type of cancer affecting her was a "triple negative" which is "one of the most aggressive forms of breast cancer," according to WFSB Eyewitness News.
From then on, David explained that their lives "became consumed with cancer." But despite their best efforts, they received news in Sept. 2017 that the cancer had spread. "We found out it was in her brain, and a couple months later, she was on life support with a breathing tube," David told WFSB Eyewitness News.
While most people assumed Heather wouldn't live past October, she refused to give up. "She was tough," David said. "Anyone else would have given up a long time ago. The doctors even said we don't know how she's still here."
The couple's wedding was set for Dec. 30th, but unfortunately, doctors doubted her ability to make it that long. Eventually, the doctors pulled David aside and told him that, if he hoped to marry Heather, he should have the ceremony earlier. "The doctors said we know you want to get married on December 30th, but if you want to get married, you should move it up," David said.
And here's where fate really seems to kick in. Remember how the couple got engaged on Dec. 23, 2016? Well, they tied the knot almost a year to the very day later, on Dec. 22, 2017, while surrounded by their friends and family.
Yes, the wedding was beautiful and the picture is joyous, but there was still something heartbreaking about the fact that she wasn't going to live much after the ceremony. "I knew it was going to be the last time we were going to be together in a love way, it just seemed like the strangest funeral I've ever been to," David continued.
"The last words she said were her vows," Heather's bridesmaid, Christina Karas (of Christina Lee Photography), who snapped the now-famous photo of the couple, explained to WFSB Eyewitness News. Just 18 hours after those words were spoken, on Dec. 23, 2017, Heather took her last breath. "Nobody thought she would've made it that far. She proved them all wrong and that's what that photo says to me," David said.
On losing the love of his life exactly a year after proposing to her, David explained, "She's my great love, and I'm going to lose her, but I'm not losing her forever."
David plans on honoring his wife's legacy by living his own life with the same relentless courage Heather lived hers with. "Heather said, 'I want to keep fighting,' so that's the mantra I'm picking up. She was able to fight 'til the end, I'm going to fight until my end," David said.
Do your part to make sure no other love story has to end as tragically as this one by donating to the Breast Cancer Research Foundation here.
Check out the entire Gen Why series and other videos on Facebook and the Bustle app across Apple TV, Roku, and Amazon Fire TV.
Check out the "Best of Elite Daily" stream in the Bustle App for more stories just like this!