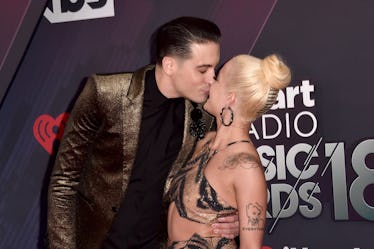 Halsey Shared This Photo Of G-Eazy On Her Birthday To Show They Are Celebrating Together
Alberto E. Rodriguez/Getty Images Entertainment/Getty Images
When it comes to on-again off-again romances, it's hard not to think of Halsey and G-Eazy. The pair have certainly had their share of ups and downs, but as of Halsey's birthday on Sept. 29, the couple seems more in love than ever. Need proof? Halsey's Instagram photo of G-Eazy on her birthday is all you need to see to know that this couple is celebrating her big day together.
This on-again couple is in one of the most romantic places on earth to celebrate the 24-year-old singer, and I think it's a sign that they are totally back on. Halsey posted the picture of G-Eazy at Osteria Francescana, a famed Italian restaurant, on her Instagram on Saturday, Sept. 29. With G-Eazy looking at the camera sporting a serious face and surrounded by walls stacked to the ceiling with wine bottles, Halsey captioned the picture,
it's my birthday.
Yep, that about sums it up. It's her birthday, and the singer is sharing it with none other than G-Eazy. I don't know about you, but I tend to celebrate my birthdays with the people that mean the most to me. So, if Halsey is ringing in her 24th year with G-Eazy, I think that's a pretty good sign that this couple has put their tough times behind them.
Need more proof that this couple is doing it up right for the singer's birthday? Halsey & G-Eazy shared a romantic gondola ride right before the singer's 24th birthday, per their Instagram Stories.
When it comest to birthdays, documenting a celebration on Instagram is essential in 2018. While the video of this romantic AF gondola ride shared on G-Eazy's Instagram Story on Friday, Sept. 28 doesn't outright scream "Happy birthday," it sure does seem like this pair is keeping it all lovey-dovey in Venice, Italy the weekend of Halsey's big day.
The Story starts with G-Eazy filming the scene as the seemingly on-again couple floats together in the gondola as they are serenaded by a gentleman at the end of the boat with what sounds like a very romantic tune. As G-Eazy pans the camera to Halsey, she gets shy, slightly covers her face, and giggles as you get a quick glimpse of the happy couple enjoying the sights and sounds of the Grand Canal.
With her hair dyed pink and a sheer black cropped top, Halsey looks ready to ring in her birthday.
TBH, even though you can't see them together in the shot, you can tell from her giggly demeanor that Halsey and G-Eazy are very much loved up in one of the most romantic places ever. Halsey even shared a video from the gondola on her Instagram Story, so I think it's safe to say that she was very pleased with this pre-birthday boat ride.
These Instagram posts are just the latest examples of the couple expressing their love for one another after seemingly reuniting right before Labor Day. The pair previously split in July 2018. There was no questioning the feelings between these two on Aug. 31, 2018, when Halsey joined G-Eazy on stage at a concert, and the pair kissed on stage and were not at all shy about dancing up on one another as they sang "Him & I."
While the couple's photos and videos from their Italian vacay are far less raunchy, they seem to be in love nonetheless. Sounds like a great way to kick off a b-day. Happy birthday, Halsey!