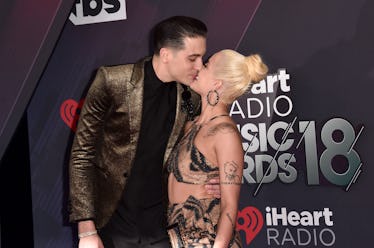 Halsey Couldn't Stop Gushing About Her Love For G-Eazy In Her Latest Interview
Alberto E. Rodriguez/Getty Images Entertainment/Getty Images
It can't be easy to have a relationship in the public eye, and I truly commend celebrity couples who manage to make it work. Can you imagine having paparazzi following, flashing cameras, and documenting your every move? No thanks. So when two celebs decide to call it quits, then decide to try and make it work after some time apart, I always give them the benefit of the doubt. Most of the time, we don't know the real reason behind the split, so we shouldn't judge — and if they're happy together, then who really cares? That's why Halsey's comments about her relationship with G-Eazy are so incredibly beautiful, because it shows a real-life couple clearly caring for each other, no matter what the world wants to think.
In an interview with Apple Music's Beats 1 radio on Thursday, Oct. 4, Halsey opened up about her song "Without Me," her first solo material since her album, Hopeless Fountain Kingdom, debuted in 2017. After revealing that this track is the first song she's ever written as Ashley Nicolette Frangipane (her real name) and not as Halsey, she opened up about her relationship with G-Eazy, telling radio DJ Zane Lowe that, ultimately, "we're just people."
After telling Lowe that she doesn't start a song unless she knows she will complete it — meaning the only songs she's created so far, the world has essentially heard — Lowe said that he finds it interesting that there is no queue of prepped tracks that Halsey has on the back burner.
"No vault," Lowe asks Halsey, and Halsey replies, saying:
No, not really. Because I know what I want to make before I make it ... My first message is like you know you are not you are not bound to any thing besides yourself. I've said that I said that in 2015 when I put out "Hurricane". I said you know I don't belong to no city, don't belong no man. That's always been my M.O., is you don't belong to anybody but yourself. And then, of course, you know situations like this complicate things when you love someone almost as much as you love yourself maybe more.
Although Halsey never mentions him by name, she seemed to be hinting at her relationship with G-Eazy. "That's what's interesting about that line because when I first heard it I felt like you were talking to him as much as to yourself," Lowe said, later adding, "It was like you were saying it's not about you belong to me or me belong to you. That's what I took from it."
"A hundred percent," Halsey agreed, later telling Lowe:
I want to just remind everyone through this process is like, we're people. We're people. You know what I mean? Like, you text your best friend and you're like, 'I'm done with them, I'm never talking to them ever again. And then your dumb sorry ass is back hanging out with them again next week, too. And if you're doing it, so am I.
So basically, Halsey is telling us that celebrities deal with the same relationship drama as normal, average humans?
Mind-blowing! You can actually listen to Halsey's interview below:
Halsey also went on to say that her relationship with G-Eazy has been oddly freeing, because it's made her learn to not worry about what others think of her. "You've known me for a while now and you know I've beaten myself up about what people think about me and about what people think about it," Halsey tells Lowe.
"And so in a weird way, like, this relationship has been one of the most liberating things that's ever happened to me, because it made me put my phone down and go, 'I don't care what you think because this makes me happy'."
Tell 'em, girl! You just do you, boo. We support it.