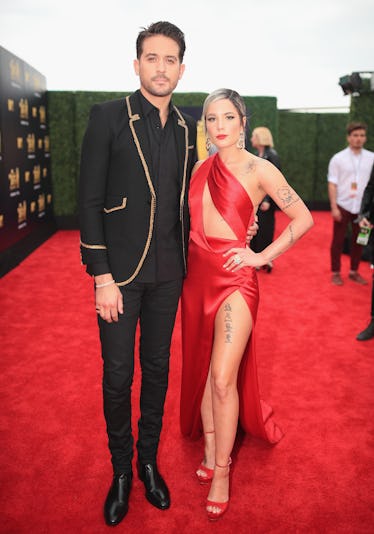 Halsey & G-Eazy Were Spotted Leaving A Club Together Last Night, So They're Back On, Right?
Christopher Polk/Getty Images Entertainment/Getty Images
Halsey and G-Eazy's relationship has been anything but easy to follow. If you've had any difficulty trying to keep up with whether these two are on-again or off-again, you can come and join the club, sis. It's been almost a whopping two months since we officially heard from the couple confirming their split, but now, it looks like Halsey and G-Eazy are reportedly back together, and to be honest, I'm equal parts excited and cautious. And also, slightly confused.
According to TMZ, the singer and the rapper were seen holding hands while leaving a post-VMAs after-party, and my middle school heart is skipping a beat, y'all. The site notes that G-Eazy showed up at Travis Scott's after-party at 1 OAK all by his lonesome, but then "things got real interesting when we spotted G-Eazy and Halsey leaving together HOLDING HANDS and jumping into the same car at around 4:40 AM." Elite Daily reached out to both teams for confirmation on the report and for comment on their relationship status, but have not heard back by the time of publication.
I think we're all pretty well-aware at this point that, if you're going somewhere with someone at 4 o'clock in the damn morning, you're clearly up to no good. And that's totally cool! But remember, on July 3, Halsey confirmed their split to her fans on her Instagram story, explaining that the two are "taking some time apart." She wrote,
I normally keep this kind of thing private but provided our public nature I feel the need to inform my fans. G-Eazy and I are taking some time apart. I'm eager to continue the upcoming passage of time dedicating myself to my art and my career, and the duration of my tour. I wish him the best. Thanks for respecting our privacy at this time.
It was pretty sad, TBH, because these two were actually adorable together. Back in December 2017, when things were still on the up and up, G-Eazy spoke with Paper magazine about Halsey, and explained how much he admires his lady. "We could talk for hours endlessly," he said about Halsey. "She's been through a lot in her personal life, in her professional life. It shocks me all the time that she's as young as she is, because even I'll forget sometimes and think she's my age and forget that she's five years younger."
But nothing gold can stay... or can it?
I mean, considering that on Aug. 12, G-Eazy shared a photo of his tattoo that looks almost exactly like Halsey, perhaps these two have been chatting after their split, trying to make things work.
In the photo he posted to Instagram, G-Eazy is in the chair getting tattooed, with a sketch of the drawing that he's getting tattooed onto his bicep. It looks like a dark-haired woman kneeling, and let me tell you folks, it looks pretty identical to Halsey. Take a look and see for yourself:
While it can be debated that it's simply a portrait of a pinup girl, I find that there are far too many similarities for it to just be coincidental.
So, look: Do we know the full story with what's going on between Halsey and G-Eazy? Of course not. But I know I certainly wouldn't be holding hands with just anyone while leaving a party. That's just me though.