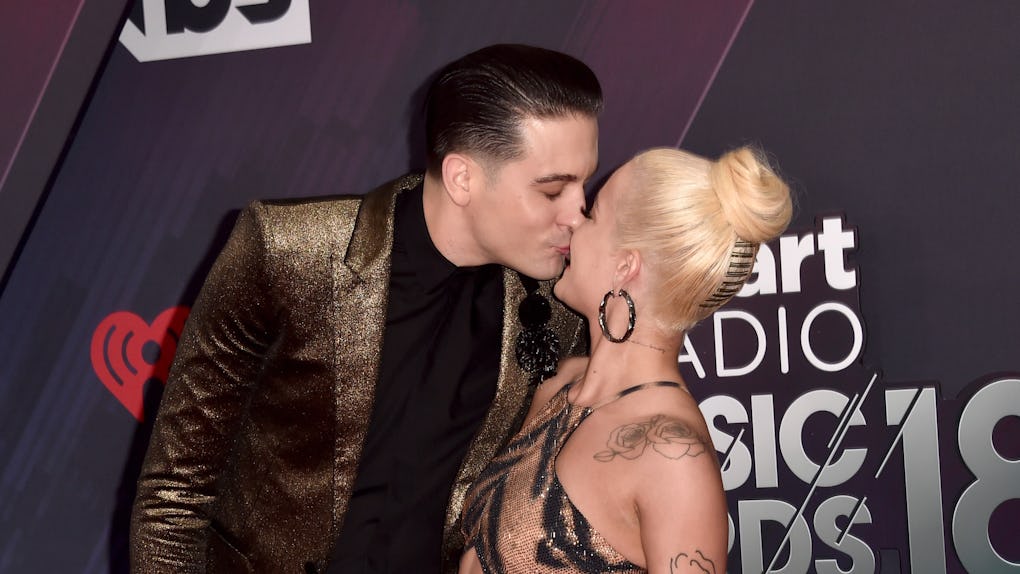 Alberto E. Rodriguez/Getty Images Entertainment/Getty Images
Halsey & G-Eazy's Body Language In Their Recent Selfies Shows They Might Be Back Together
In July, Halsey and G-Eazy broke our hearts when they confirmed they were ending their relationship. But that didn't stop us from hoping these two might rekindle their love in the future, and they may be doing just that, as we speak. The internet basically broke (does it still do that?) when the two kissed on stage at his concert in New Jersey on Aug. 31. And now, Halsey and G-Eazy's body language in their recent selfies has us all wondering: Are these two back together?!
Before we dive in, a brief summary of what's been going down between the maybe-couple these last few weeks: After being spotted holding hands following a VMAs after party on Aug. 20, a source told E! News that Halsey and G-Eazy were "working on their relationship." At his show on Aug. 31, G-Eazy surprised his fans when he welcomed his ex(?) on stage to perform their ~super~ romantic duet, "Him & I." The performance quickly got hot and heavy, making fans everywhere question whether or not the two are officially back together. Not to mention, they ended their performance with a kiss! To even further our intrigue, Halsey posted a couple of way cute pictures of them together on her Instagram just a few days after their steamy duet.
Here's what two body language experts had to say about whether or not Halsey and G-Eazy's body language means all our dreams have come true, and they are, indeed, back together.
They could be back together, but it's not that simple.
Traci Brown, body language expert and author of Persuasion Point: Body Language and Speech for Influence, says she definitely thinks these two are "in like" once again. "First, you don't stick your tongue out like that to someone unless you're involved. And in that shot, she's got her hand on his neck controlling him a bit," Brown tells Elite Daily. "She's looking him in the eyes at very close range, this is hard to do unless you're dating. They're close enough together that I'm betting their hips are touching and that's a dead give away of intimacy."
While Lisa Mitchell, body language expert, tells Elite Daily she's rooting for Halsey and G-Eazy, she thinks, "they still have some issues to work through to be a happy couple." Scroll right on Halsey's Insta pic to see both of the photos our experts analyzed!
"In both pictures, G-Eazy is closing the gap between the two while Halsey keeps a more upright and distant posture," Mitchell points out. "This tells me that while G-Eazy is making efforts to regain her affection and their previously playful relationship, she is holding back and keeping a little space between them for the time being." Which makes total sense, considering there were rumors circulating that G-Eazy may have cheated on Halsey.
"The first photo is him being playful and ornery, and being met with her disapproval, where the second photo shows her reeling him in and calming him down with his head in her hands, like he's trying to behave or making amends," Mitchell explains. "Although the tone of these photos is meant to be fun and playful, the facial expressions and body language make me believe this pattern [of reeling him in] may be more representative of their relationship in a larger sense."
So, it seems G-Eazy and Halsey's body language reveals they still have some work to do to get back to the peak happiness they once so beautifully exhibited, but it is possible. And that's good enough for me! Relationships take work, and celeb relationships are no different. Here's hoping these two can work it out. (Preferably soon!)