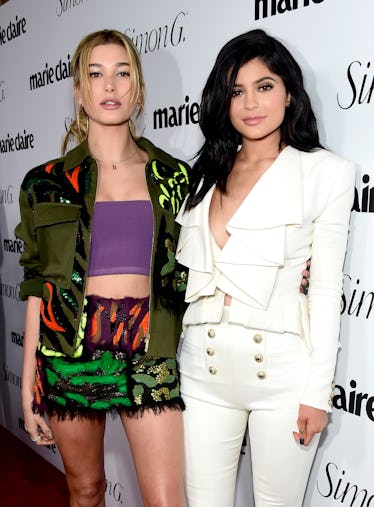 Hailey Baldwin's Reaction To Kylie Jenner Giving Birth Is So, So Sweet
Frazer Harrison/Getty Images Entertainment/Getty Images
Kylie Jenner's return from her public hiatus is going pretty well. And by pretty well, I mean the first photo she posted of her daughter, Stormi Webster, is now the most-liked Instagram of all time. Yeahhhh. Kylie Jenner's back. Her friends are coming out in droves expressing their support for the new mom, and Hailey Baldwin is the latest to chime in. Hailey Baldwin's reaction to Kylie Jenner giving birth is super supportive and sweet. Baldwin was at the amfAR Gala in New York City on Wednesday, Feb. 7, when she told E! News how happy and impressed she is over the way Jenner handled her pregnancy. "I'm super excited for her," Baldwin told the outlet. She continued,
I think that she's so awesome for doing this the way that she's done it. I think it was a really mature way for her to have handled this whole thing. Being 20 and welcoming a child into the world is not an easy thing for anybody, so I mean she's going to be the best mom ever.
Even though Jenner has returned to social media and has revealed a picture of Stormi, she's reportedly still planning on keeping her life as a mother private.
So, enjoy this picture of Stormi Webster's tiny hand holding Jenner's thumb because it's probably the only picture we're going to get for a while.
Jenner posted the first photo of her daughter on Tuesday, Feb. 6, with the caption, "Stormi Webster" with an angel emoji, revealing the baby is taking her father's last name. (Travis Scott's real name is Jacques Webster.) Since posting it, the photo of Stormi Webster has become the most-liked Instagram ever, officially beating Beyoncé's February 2017 pregnancy announcement. (I'm not bitter... not even a little bit... OK, fine. I'm bitter as hell.) What is it about celebrities posting Instagrams about babies during the month of February that gets the whole world talking?! Anyways, Kris Jenner posted on Instagram (but has since deleted the post, for some reason) congratulating her daughter on the feat. She said,
Wow Kylie!! How incredible, this is the most-liked picture in the history of Instagram!! Thank you everyone for the outpouring of love for our precious Stormi! 💕💕 #blessed#stormi#proudmama#love@kyliejenner
A source told Us Weekly that Jenner is planning on keeping her life with Stormi under wraps, although it's not clear if that means she intends on taking a full-on break from social media again or if she's just not planning on posting a lot of things about the baby. (It's probably the latter, since she's been actively posting on Snapchat ever since her birth announcement.) The source said, "She is extremely protective and she is very focused on trying to keep motherhood private for right now." They continued, "She used to love being in the limelight, but that has totally changed. All Kylie wants is for her privacy to be protected right now and is pretty demanding about that at this time."
According to People, Jenner and Scott are "not officially" living together. Stormi lives in Jenner's home and the two are co-parenting. They're still in a relationship, though. They're just not living together/don't have any plans to get married as of right now (not that they need to). The source said that when it comes to their relationship, "They're not in rush. They're just enjoying their little family." They added,
Kylie and Travis are not officially living together. He has his own place. They are co-parenting though, and things are going great. They are together and happy.
With friends like Hailey Baldwin, Jordyn Woods, and all of the Kardashian family offering their support to Jenner and Scott, I'm sure the couple will get the hang of the whole parenting thing in no time.