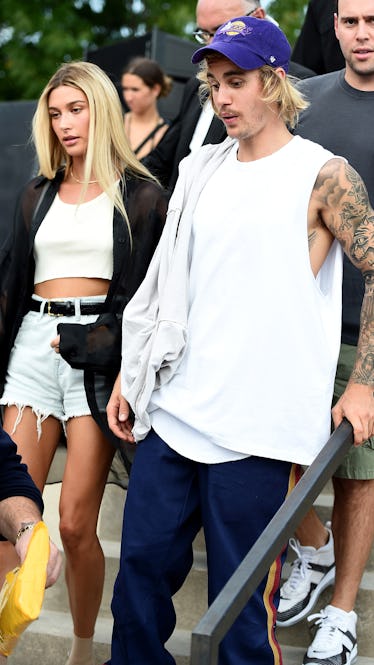 Hailey Baldwin's Huge Diamond Necklace On Her IG Has A Sweet Connection To Justin Bieber
Theo Wargo/Getty Images Entertainment/Getty Images
Earlier this month, model and TV personality Hailey Baldwin changed her last name on Instagram to Hailey Bieber, taking on the last name of her husband, singer-songwriter Justin Bieber. Now, in a post shared to her Instagram Story on Saturday, Nov. 24, Baldwin can be seen flashing some serious bling as she starts her new role as a wife. Seriously, Hailey Baldwin's diamond "Bieber" necklace shows she's embracing her married name. Hooray for the happy couple!
Normally, wearing a necklace with the last name of your significant other might just be a sweet tribute to that person, but Baldwin has been on a recent kick of sporting her married surname, so I think it's safe to believe that she's adding a giant diamond necklace to ways she's showing off her new role as Mrs. Bieber. The post from Nov. 24 shows the lower half of Baldwin's face, and in the photo, she's wearing a green camo-print hoodie and black crewneck that accentuates the sparkling "Bieber" necklace. Clearly, the selfie was supposed to bring attention to her new family jewels — and it worked!
On Thanksgiving, Bieber officially announced he was a married man in a heartfelt Instagram post that said:
"Happy late thanksgiving to everyone. First thanksgiving as a married man, first time hosting thanksgiving. First time both sides of the family has come together. Relationships are hard and love isn't always easy but thank you Jesus for showing me how! Every day is a learning process, trying to be more like him, patient, kind, selfless, boy I got a long way! But gods grace is sufficient !"
He's not the only one excited to be married! Check out Baldwin's necklace that shows off her newly cemented relationship:
Per Teen Vogue, another shot of the bling includes a present emoji, so it's possible that Bieber gifted his new wife with more than just smashed cake in her face for her recent birthday celebrations on Nov. 22.
The Bieber-Baldwin relationship saga has been full of ups, downs, and speculation. After breakups, makeups, rumors that they were dating other people (including Kendall Jenner, Kylie Jenner, and Shawn Mendes), and unfollowing each other on social media, the couple was photographed spending time together again in May 2018 and then attending the same church services in July. Shortly after announcing that they were officially dating in the summer of 2018, TMZ reported that Bieber asked Baldwin to marry him in the Bahamas. Elite Daily reached out to Bieber's and Baldwin's representation at the time for comment on the reports, but did not hear back at the time of publication.
Bieber confirmed the engagement on July 9 with an Instagram post saying that Baldwin was the love of his life. He wrote:
Was gonna wait a while to say anything but word travels fast, listen plain and simple Hailey I am soooo in love with everything about you! So committed to spending my life getting to know every single part of you loving you patiently and kindLY. I promise to lead our family with honor and integrity letting Jesus through his Holy Spirit guide us in everything we do and every decision we make. My heart is COMPLETELY and FULLY YOURS and I will ALWAYS put you first! You are the love of my life Hailey Baldwin and I wouldn't want to spend it with anybody else. You make me so much better and we compliment eachother so well!!
On the same day, Baldwin tweeted, "Not sure what I did in life to deserve such happiness but I am so utterly grateful to God for giving me such an incredible person to share my life with! No words could ever express my gratitude."
Hopefully the heartfelt Instagram posts and couple-themed bling will be a constant in the lives of these newlyweds.