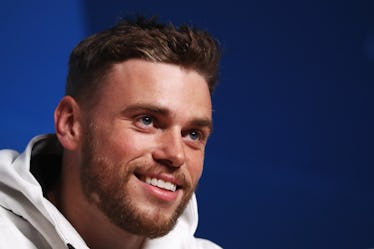 Gus Kenworthy's Pump-Up Olympics Song Is By Britney Spears & TBH, Same – EXCLUSIVE
Ker Robertson/Getty Images Sport/Getty Images
Gus Kenworthy is an Olympic freestyle skier who's already making some pretty big waves at the 2018 Winter Olympics in PyeongChang. But it's not solely because he's an incredibly talented skier (he's already won a silver medal in Freestyle Skiing from the 2014 Winter Olympics in the men's slopestyle category, NBD). Kenworthy has made history by being the second Olympic male athlete to openly come out, alongside figure skater Adam Rippon. But there's much, much more to Gus Kenworthy than just his sexuality. There's his impeccable work ethic, his dedication to his sport, and the fact that at the end of the day, he's just like everyone else (you know, if everyone else could perform record-breaking feats on skis). Gus Kenworthy spoke to Elite Daily about his Olympic training, the pressures of being an out athlete and, oh yeah, his go-to competition song during the 2018 Olympics (hint: it involves Britney Spears). Believe me, you're going to want to read on, because hearing what Kenworthy has to say will make you feel like maybe he's not so different from the average person after all.
If you think that becoming an Olympic-worthy skier comes naturally, sorry, think again. Gus Kenworthy revealed that it takes hours and hours of training on the slopes each day followed by an extreme gym routine to prep for the Olympics. He said, "Training day a month ago would have been an early wake up, getting on the hills as early as I can, and then skiing for four to five hours pretty intensively." After his time on the slopes, he said he'd drop his skis and "then go to the gym."
Well, you can count me out already.
And, while training at the Olympics is a bit different than the months leading up to it (Kenworthy says that in PyeongChang, he doesn't want to "overdo anything," so as not to lose steam before the competition even begins), the stress and pressure are still very much present once you arrive. To help keep his stress levels down, Kenworthy says he listens to music to help with the emotional and physical demands of his line of work. He explains:
I think music definitely plays a really big part [of relieving stress], and I think that it's so easy to get caught up in the Olympics — the pressure of it, and the nerves. I think that music definitely plays a big part in either relaxing me or kind of building me up if I need to to get pumped up for an event.
When asked what his pump-up jam was for the season, he reveals that he has somewhat of a ritual when it comes to what he listens to during his competitions:
During the season I will have a song that I'll kind of be listening to during competitions or the warm-up, and if I end up doing well at that event, then that will be my song for the season. And this season, my first win was at our selection event, I was playing "Gimme More" by Britney Spears. So, I have listened to that Britney Spears song at every competition round since, and I haven't gotten sick of it yet. So that's my competition song.
Could there be any more proof that Gus Kenworthy is literally all of us?
I'm submitting that no, there is not.
Phenomenal taste in music aside, Kenworthy also reveals what Olympics event he personally loves to watch. Spoiler alert: it's not freestyle skiing.
I grew up playing hockey, so I always get really excited for the hockey games. I think it's going to be really interesting this time because it's not NHL players, it's up-and-coming hockey players, so I'm really excited to watch hockey. And figure skating is always really exciting, I think that their long program is so impressive. They have so many jumps and so much dancing and it's so physical, and also so graceful and beautiful, and I'm rooting for my boy Adam [Rippon] this time around, so I'm really excited for that.
Because Kenworthy and Rippon are two of the first openly gay athletes on Team USA competing at this year's Winter Olympics, Kenworthy addresses the pressures that he faces as being an out athlete, expressing that it's an honorable privilege but also comes with it's own responsibilities:
I realized that I was taking on a position as a role model a little bit, just because there hadn't been many people that have been out in sports ... I did come out in a very public way because of that. I didn't want to tell one person, and then another person, and then be half-in the closet, half-out of the closet. I wanted to come out in a big way publicly and be outspoken for any kid that felt like they didn't have representation and didn't have anyone to look up to, in the way that I didn't feel like I had people in sports to look up to myself. I think there's a responsibility that comes with that, and I hope to do a good job for my community.
Because Kenworthy's coming-out story is so deeply engrained into his Olympic persona, he admits that getting asked questions about his sexuality can feel a bit like "Groundhog's Day," repeating the same answers over and over again, but that he understood that it would be a "focal point" for him, joking that before he was known as the gay skier, he was known as the "dog guy" after Sochi.
For those of you who don't know, Gus Kenworthy found and rescued a litter of puppies at the Sochi Olympics in 2014:
I know, I know. He seriously couldn't get any more perfect.
It's because of the way Kenworthy has faced strength in the face of adversity that he has partnered with Head & Shoulders for its Shoulders of Greatness campaign.
The campaign's message seems to ring true to Kenworthy's story, so it was an organic and natural pairing that he says he's "so excited to be a part of."
And, oddly enough, Kenworthy's biggest obstacle preparing for the Olympics is not competing against his competitors — many of which he considers to be his "best friends" — but it's actually himself. He reveals that he can often get far ahead of himself — like, really far ahead:
I'll be at a competition and I'll feel good about the run that I'm doing, and then my mind will start wandering to what my Instagram caption is going to be when I win ... and I'm like, 'Oh my God, you haven't even landed your run! You need to step back.'
I think I can vouch for nearly everyone when I say that we all have a tendency to be more focused on our Insta captions than reality itself, so honestly, can we even blame him?
With only a week and change left of the 2018 Winter Olympics, Kenworthy reveals what he's most looking forward to after his time competing in PyeongChang:
I honestly think the thing I'm most looking forward to is getting to spend time with my family and my boyfriend. We definitely see a lot of each other, but during the winter, there's times where we'll go eight weeks without seeing each other. I also have a niece who I'm obsessed with and I only get to see her a couple times a year, so I'm looking forward to spend more time with the people in my life because I'll have a little bit of a break after the Olympics.
Before Kenworthy takes his well-deserved break, you can tune in and watch him compete in the 2018 Winter Olympics on NBC, NBCSN, and across the networks of NBC Universal (or stream it via NBCOlympics.com, if that's more your thing).
To learn more, visit teamusa.org. The Winter Olympics will air live starting February 8.