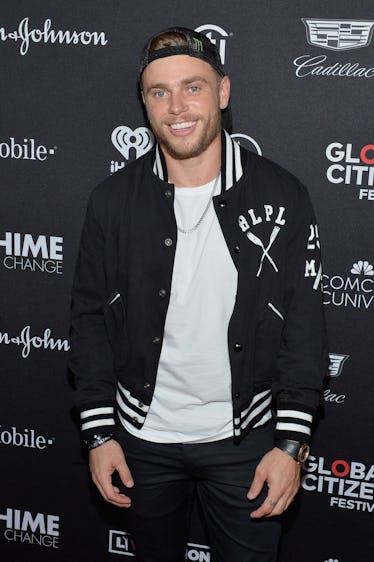 Gus Kenworthy & Matt Wilkas Are Dating & They're Serious Couple Goals
Noam Galai/Getty Images Entertainment/Getty Images
There is nothing hotter than a man who is not only ridiculously talented and good-looking, but has zero problem publicly coming out to the entire world, unafraid of what people might think. I'm talking about Olympic freestyle skier Gus Kenworthy, who has me swooning. You may have seen him at the 2014 Winter Games in Sochi, Russia, where he took home the silver medal, and – hallelujah – it looks like we'll be seeing him again in the 2018 Winter Olympics in PyeongChang, South Korea, competing to take home the gold. And, while we applaud him for his talent on the slopes, his bravery for defending his beliefs and his sexuality, and his SMOKING good looks, there's one thing that people really want to know: Is Gus Kenworthy single?
Honestly, who could blame anyone for asking? He's just so intriguing. For starters, he had the choice to compete for England at the Sochi Olympics, because he was born in London, but chose the United States because that's where he grew up. 'Merica.
He also made everyone weep tears of joy when he rescued stray puppies that he found while competing in Sochi, and made appointments to vaccinate them and take them home with him.
I'm sorry, but that's about as perfect of a human as they come.
JUST LOOK AT THIS:
And let's not gloss over the fact that Kenworthy came out in an interview with ESPN magazine in 2015, telling the world that he was proud of who he was, and any risk of losing sponsorships be damned. In the interview, writer Alyssa Roenigk starts the story by painting the picture of her and Kenworthy sitting down together, ready to begin their talk. It's right at the beginning when Kenworthy puts it all out there. He said,
I guess I should start by saying, 'I'm gay.'
When the issue hit news stands, Kenworthy made things very, very clear:
Hell yeah, Gus! You do you.
People took to Twitter to second that sentiment:
So by now, I'm sure you're wondering if Kenworthy is shacked up with someone, or if he's on the market. Well, I have good news and I have bad news.
The bad news is that he's taken (boo!). The good news is that he seems to be in a super happy, committed relationship, so that's something I can totally support. The lucky guy is actor Matt Wilkas, someone Kenworthy saw in a movie and subsequently started following on Instagram. In an interview with Out magazine, the couple talks about their relationship, and how they manage to stay close despite their long distance. Kenworthy said,
All relationships take work, and we've definitely begun to realize that. I'm traveling and skiing and training and competing. He lives in New York — he can't really live in Denver ... We're not in an open relationship and we're not breaking up. But we're also not getting married.
Totes understandable.
Wilkas opened up in the interview as well, admitting that one of the best things about Kenworthy is his sense of adventure. He said,
I think that's one of the best things about Gus, that he's an adventurer and explorer. He's not a homebody at all. I've never been a homebody — I'd rather walk out in the cold rain than sit at home. He took me to Hawaii for my birthday last year.
Oh, did you want to see the two of them galavanting about Hawaii?
HERE YA GO:
You're welcome.
Mhm. You're still welcome.
:wipes drool from chin:
These two seem adorable AF, and am so happy that they both have found love.
So, will I be tuning in to watch Gus Kenworthy tear up the slopes at the 2018 Winter Olympics? Of course. Will I also be thinking of him shirtless, just coming out of the Hawaiian ocean? You bet your ass I will.