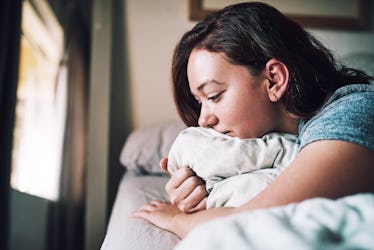 7 Things To Remember When You're Getting Over Someone You Thought You'd Marry
PeopleImages/E+/Getty Images
Breakups are never easy, no matter what caused them. But when you're getting over the person you thought you'd marry, it can feel like you have an additional layer of pain to process. Not only are you grieving the end of your relationship, but you're also dealing with mentally reshaping the life you thought you'd have. It can feel like the rug has been pulled out from under you and the future is a wide-open book. You didn't expect to be single again, but now you're living a reality you never envisioned just a short time ago.
There's no need to mince words here: Grieving sucks. But as torn up as you might feel right now, rest assured that you can get over this breakup with time and the right support. If you need to see a professional, a breakup coach or therapist can guide you through your changing (and often confusing) emotions. It may benefit you to take a break from social media, or to spend time developing a new hobby or investing in friends. However you choose to channel your energy after a split, remember and trust that you're stronger than you think you are.
Elite Daily spoke with behavioral scientist Clarissa Silva and relationship expert Susan Winter to get some words of wisdom about moving on from such a devastating loss. Their advice will remind you that you've got this, and to take things one day at a time.