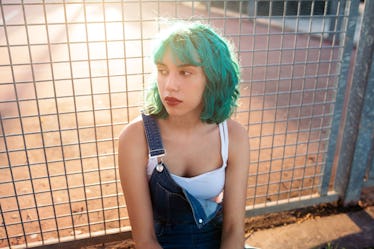 5 Therapists Share Their Most Helpful Tips For Handling Heartbreak & Moving On
Going through a breakup can be devastating, disorienting, and isolating. The experience of splitting from a partner can make you feel super alone, but it could help to remind yourself that there are tons of people going through something similar. There are also numerous different philosophies on getting over breakups, but the truth is there is no right way to heal from a breakup. If you're looking for some helpful reassurances and guidance when it comes to healing a broken heart, getting breakup advice from therapists can be super helpful.
"One of the best ways to handle heartbreak is to really allow yourself to go through and experience the pain of the loss," says Dr. Joy Harden Bradford, Licensed Psychologist & Founder of Therapy for Black Girls, "The truth is that when we try to take shortcuts and skip through the grieving process, it can prolong our heartbreak." Bradford's really shines a light on the fact that it's OK to be upset and devastated by a breakup. Sometimes, when people seek help with healing from a breakup, the goal can be to make the pain of the loss subside. Though it's only human to find ways to ease your pain, keep in mind that this is the natural procession of grieving the loss of something that was important to you. If you found Harden's advice reassuring, check out what some other therapists had to say.