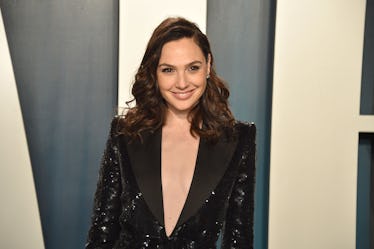 Gal Gadot's Staring Contest On TikTok Is So Good, You'll Want To Duet It
David Crotty/Patrick McMullan/Getty Images
Wonder Woman has arrived on TikTok, and she's already showing off her strengths. Gal Gadot's TikTok staring contest is too good to not watch, and plenty of TikTokers have already taken on the DC superhero in this challenge. On Jan. 6, 2021, Gadot posted a video on TikTok calling on people to participate in the "challenge of all challenges" — a staring contest. No need to memorize choreography or figure out a filter, because all you need for this challenge is your game face and a duet.
It's such a fun and simple challenge that many TikTokers decided to put their own spin on it. Some cosplayers have duetted Gadot dressed in Wonder Woman outfits, while others have gotten their four-legged friends involved. If you want to join in on the fun, all you need to do is go to Gadot's original video and click on the "Duet" button within the "Share to" menu. That'll take you to a new TikTok screen where you can record a side-by-side video with Gadot.
When the staring contest begins, try not to blink before Gadot does. Be sure to make your video unique to you. And iff you still need a little inspo, here are seven Gal Gadot staring contest TikToks to watch at home.