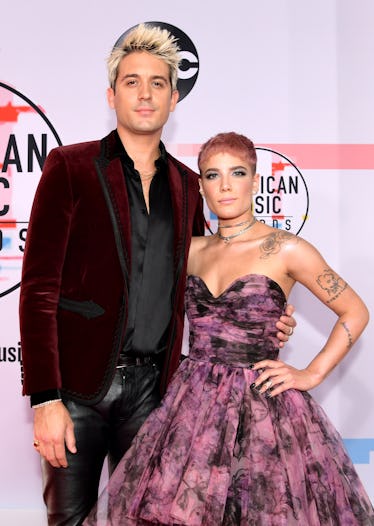 G-Eazy Couldn't Stop Gushing About How Amazing Halsey Is In His Latest Interview
Emma McIntyre/Getty Images Entertainment/Getty Images
Hey, do you feel like smiling uncontrollably today? If you do, you're in luck, because I've got a feel-good story coming your way. By now, you know rapper G-Eazy and singer Halsey have had somewhat of an on-again, off-again relationship, but this time around, it just seems different. It feels like love is officially back in the air for these two, and G-Eazy's comments about Halsey show that he is clearly wild about her.
At 97.1 AMP Radio's 6th Annual We Can Survive concert on Saturday, Oct. 20, G-Eazy spoke to E! News about Halsey, gushing about her talent, and it's quite possibly the sweetest thing you'll hear all day. "I mean she's an incredible artist," he said, adding, "She's really inspiring to watch work."
I'm already emotional, you guys.
He continued, saying, "I've been blessed and fortunate enough to get in the studio with a lot of artists I admire, but she's one of those that when you hear her voice come through live from the booth, it hits you right away. It's pure."
Is it just me, or is G-Eazy telling the world that Halsey's voice is purer than Halsey herself? Because this is making me feel so many, many things that I can't quite explain.
What is taking over me?
This interview is almost as sweet as G-Eazy's heartwarming tribute on Instagram to Halsey for her birthday back on September 29. He wrote,
Happy birthday to this one. I love you so so so much and I always will. I myself, along with millions and millions of other people appreciate you more than you'll ever know. You're the brightest star in the sky. So grateful to get to travel thru life with you, so happy to call you my queen. Happy birthday baby
When asked about his adorable post at the same event on Saturday, Oct. 20, G-Eazy explained that he was just "speaking from the heart," and I honestly can't keep writing about all of this without wanting to cry tears of happiness.
"Just speaking from the heart, you know?" he told Entertainment Tonight. "I think the world of her. She's a really special person, a really special human being. Besides how great of an artist she is, but as a human, I love her."
That's it, you guys. I'm officially done.
Except I'm not done, because I need to show you the gorgeous couple making things even sweeter by walking the American Music Awards red carpet together and showing enough affection towards each other that it will make your heart burst into a million little pieces.
Can we please talk about this cuteness?
And look at this casually perfect stance:
And check out the way Halsey is staring so adoringly at G-Eazy:
Not gonna lie, you guys. Slightly obsessed with these two.
And it's not just G-Eazy who gushes over Halsey, either. Halsey's comments about her relationship with G-Eazy show that she's just as invested in him as she is with her. In an interview with Apple Music's Beats 1 radio on Thursday, Oct. 4, Halsey told radio DJ Zane Lowe that, ultimately, she and G-Eazy were "just people" and that her relationship with him has made her understand that it doesn't matter what other people think. "You've known me for a while now and you know I've beaten myself up about what people think about me and about what people think about it," she tells Lowe.
"And so in a weird way, like, this relationship has been one of the most liberating things that's ever happened to me, because it made me put my phone down and go, 'I don't care what you think because this makes me happy'."
Say what you want about these two, but I'm absolutely loving their relationship. Cheers to the happy couple!