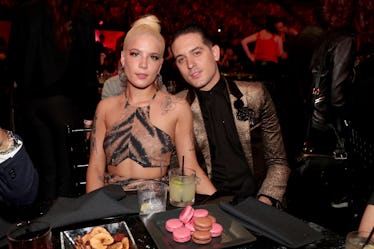 G-Eazy's Birthday Tribute To Halsey Calling Her His "Queen" Will Make You Swoon
Christopher Polk/Getty Images Entertainment/Getty Images
In case you haven't already heard, Halsey celebrated her 24th birthday on Saturday, Sept. 29 on an extremely idyllic trip to Italy (casual, right?). As you'd probably imagine, the singer was accompanied in the world's most romantic destination by her rapping and record-producing boyfriend, G-Eazy, and even though the two have openly had relationship issues in the past, it looks like they're currently going stronger than ever... not only based on their extremely picturesque vacation, but also based on G-Eazy's birthday tribute to Halsey on Instagram. FYI, he referred to her as "my queen," and it's probably one of the sweetest things I've ever read in my entire life.
To start, the three photos included in G-Eazy's birthday tribute to Halsey were beyond adorable. The first photo is a super casual (and straight-up adorable) shot of the singer-songwriter posing in front of a brick wall, the second shows the two of them getting cuddly in front of a plane, and the last shows Halsey basking in all her glory, on a boat in front of bright blue water. TBH, each and every photo is a total sight to see, and I don't know about you, but I'm totally swooning right now. Just take a look at them for yourself, in the IG post below.
While each and every photo that G-Eazy included is beyond cute, though, the caption is — by far — the best part of it all. While G-Eazy wished the "Now Or Never" singer a super sweet "happy birthday," he also professed his love to her, referring to Halsey as "the brightest star in the sky," and calling her, "my queen." UGH, face it: Halsey and G-Eazy are absolutely amazing, and honestly, I can't handle how sweet they are.
In the rapper's Instagram caption, G-Eazy said:
Happy birthday to this one. I love you so so so much and I always will. I myself, along with millions and millions of other people appreciate you more than you'll ever know. You're the brightest star in the sky. So grateful to get to travel thru life with you, so happy to call you my queen. Happy birthday baby
OMG. Seriously, have you ever seen anything cuter than that? I don't care what any of you say, Halsey and G-Eazy are forever, y'all. They're legitimately the definition of true love.
In honor of the singer's birthday trip, Halsey posted an equally-cute photo to Instagram of G-Eazy at Osteria Francescana, a renowned Italian restaurant. In the photo, G-Eazy was totally smizing at the camera in the most model-esque way possible, surrounded by ceiling-to-floor walls of wine. Halsey captioned the photo, "it's my birthday," and if you ask me, it most definitely looked like a birthday for the books.
OK, real talk, though: If anyone deserves a super sweet birthday tribute, it's Halsey — no ifs, ands, or buts. It's super heart-warming to see that G-Eazy and Halsey are finally back together, and (fingers crossed) it looks like they're going strong. Have the happiest of birthdays, Halsey — enjoy your dream birthday vacation!