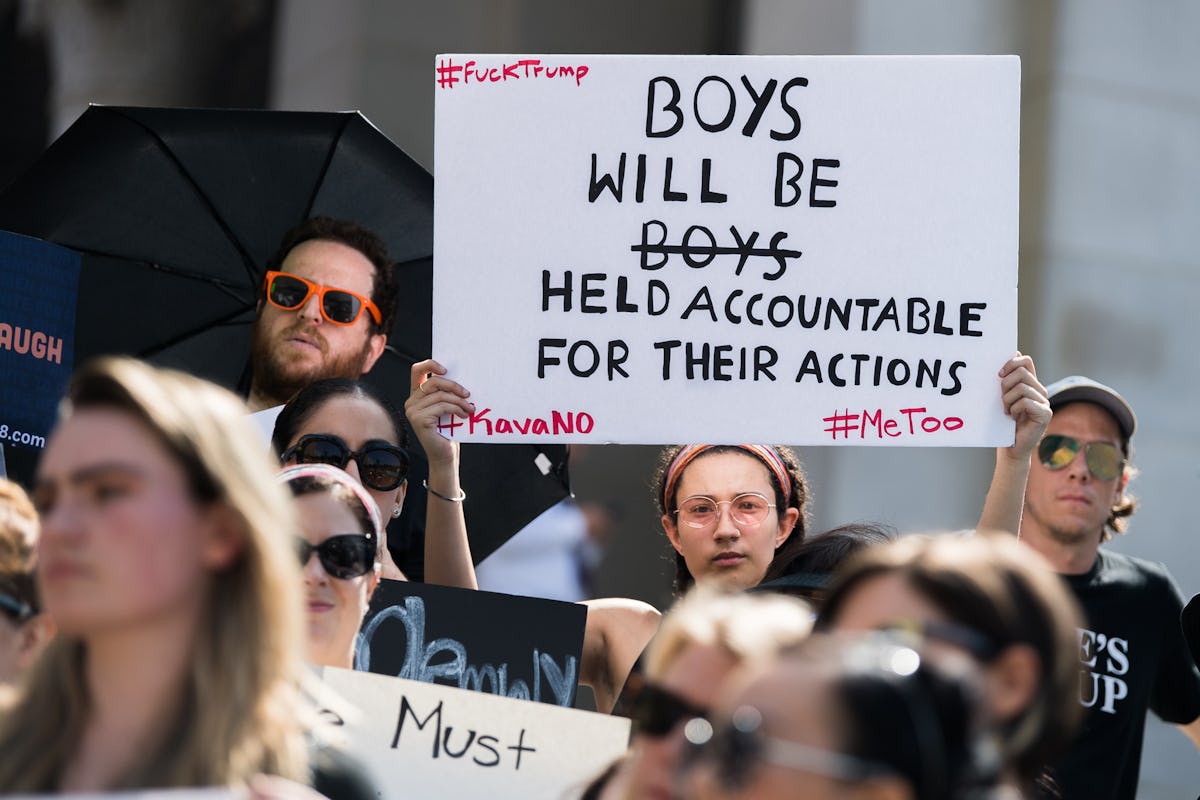 An Activist Group Purchased A Website Under Brett Kavanaugh's Name For An Amazing Reason
Emma McIntyre/Getty Images Entertainment/Getty Images
The internet is truly a magical place. With one click, you can find important research, loads of jokes, and entertainment galore. However, people have also been using this platform as a way to express their political beliefs and opinions, like when Fix The Court bought Brett Kavanaugh's name as a website to support sexual assault survivors. Checkmate.
On Wednesday, Oct. 10, Mashable reported that Fix The Court, a grassroots organization that fights for total transparency within the Supreme Court, bought a domain with Brett Kavanaugh's name as a way to provide resources to sexual assault survivors. Basically, if you go to BrettKavanaugh.com, .net, or .org, you'll immediately be linked to a website that features a handful of websites and organizations whose focus is in assisting and supporting sexual assault survivors, such as End Rape On Campus, National Sexual Violence Resource Center (NSVRC), and Rape, Abuse & Incest National Network (RAINN). Elite Daily reached out to representatives of Kavanaugh at the Supreme Court for comment on the new websites and their purpose, but did not immediately hear back.
Fix The Court Executive Director Gabe Roth issued a public statement on Tuesday, Oct. 9 explaining the reason behind the website, and how it was made as a way to show support to Dr. Christine Blasey Ford, who has accused Kavanaugh of sexual assault. Kavanaugh has denied the claims, and representatives for the new Supreme Court justice did not reply to Elite Daily's request for comment. The statement read,
Three years ago, I bought a handful of URLs that I thought might be useful in any forthcoming Supreme Court confirmation battles. Included were BrettKavanaugh.com, .org and .net. Today I am redirecting those three to a landing page with resources for victims of sexual assault. I believe Dr. Ford. I believe Prof. Hill. I also believe that asking for forgiveness is a sign of maturity and strength, not weakness. Watching last night's White House event and listening to the President again cast doubt on veracity of Dr. Ford's claims, while not hearing a word of contrition from the newest justice, was difficult for many Americans who have experienced sexual misconduct firsthand. Fix the Court stands with you. We believe you, and we support you. And if you seek additional resources, you can go to BrettKavanaugh.com.
On Saturday, Oct. 6, Americans all over the nation waited to hear whether Kavanaugh would be confirmed as the next Supreme Court Justice. During the confirmation process, the Supreme Court nominee was accused by three women, Dr. Christine Blasey Ford, Deborah Ramirez, and Julie Swetnick, of alleged sexual misconduct and assault back in high school and college. Kavanaugh has vehemently denied these accusations since they surfaced. Elite Daily reached out to the White House for comment about the accusations at the time, but did not hear back.
Then, on Thursday, Sept. 27, Ford bravely appeared before the Senate Judiciary Committee to give her testimony against Kavanaugh, and it was truly a powerful moment in American history.
After Kavanaugh and Ford's testimonies, it seemed unclear how the Senate would vote in regards to Kavanaugh's seat in the Supreme Court. Well, on Oct. 6 at 4 p.m. ET in Washington D.C., the ordeal finally came to a close when the Senate voted 50 Yeas and 48 Nays to confirm Kavanaugh as the United States' next Supreme Court Justice.
Naturally, the decision sparked huge controversy across the nation, particularly among reproductive and women's rights groups and the Democratic party. Following the Senate's vote, the public showed their support to survivors by demonstrating on Capitol Hill, delivering public statements, and openly interrupting the Senate with screams of protest.
No matter how we feel, this decision has ultimately come to a close. For those who want to follow Fix The Court's lead and make some serious change, think about voting in the upcoming November midterm elections. Seriously, your vote counts.