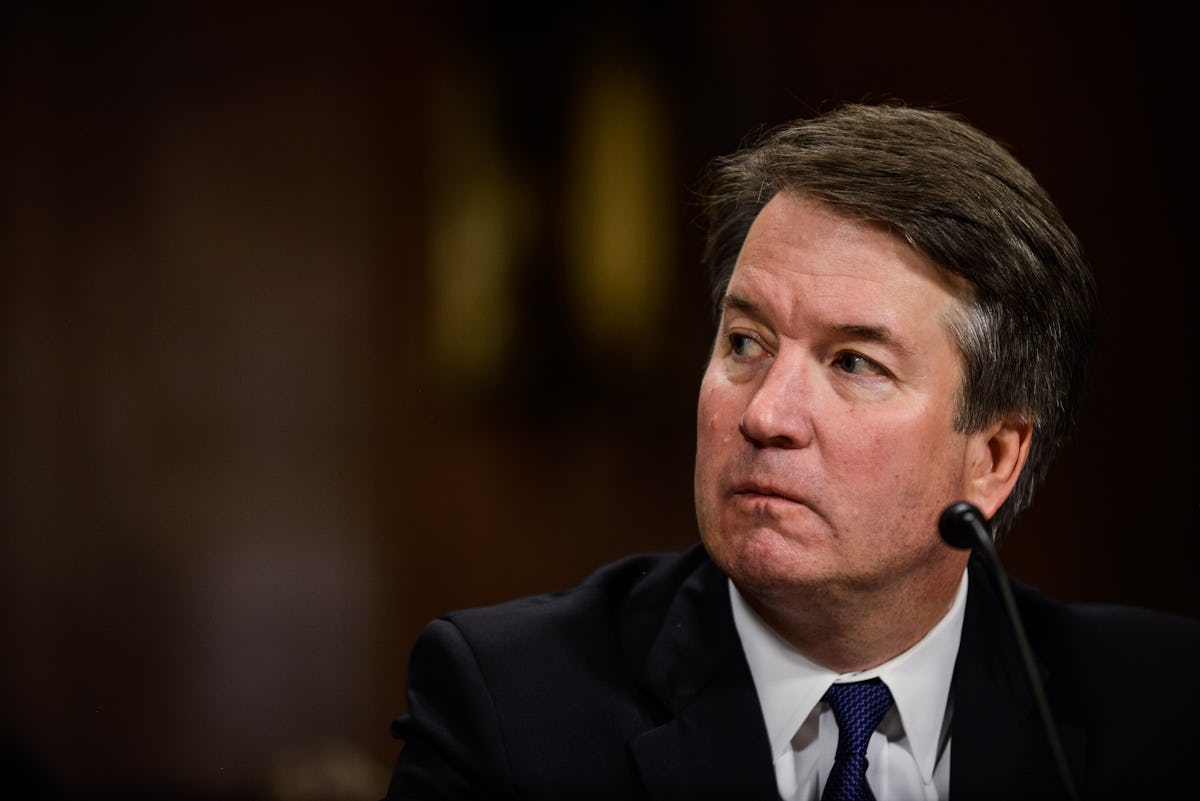 These Responses To Brett Kavanaugh's Supreme Court Confirmation Are Saying This One Thing
Pool/Getty Images News/Getty Images
On Saturday, Oct. 6, Brett Kavanaugh was confirmed to the Supreme Court. With 50 Yeas and 48 Nays, President Donald Trump saw his second Supreme Court nominee confirmed to the highest court in the land. Of course, this confirmation process has been far from ordinary. With that, the responses to Brett Kavanaugh's Supreme Court confirmation are urging Americans to do one thing: vote.
In a speech on the Senate floor just ahead of the 3:30 ET confirmation vote, Sen. Chuck Schumer (D-New York) had voting on his mind as he denounced the way in which the Kavanaugh confirmation process took place. In his speech, per CNN, he said,
I understand, I share the deep anguish that millions of Americans are experiencing today. But I say to you, my fellow Americans, there is one answer: vote.
Elite Daily reached out to Sen. Schumer's office for further comment on Kavanaugh's confirmation, but did not hear back at the time of publication.
An official statement from the president of EMILY's List, Stephanie Schriock, in a press release served as a warning for Republicans in the November 2018 mid-term elections.
We are disappointed and angry that the Senate chose to confirm an alleged sexual assailant and anti-choice radical to a lifetime appointment on the Supreme Court. But we will carry that anger into the election. Women will not forget this. We will decide this election, and elections beyond, and we will elect women who will protect our rights. Republicans — start packing your bags for home.
In a NARAL Pro-Choice America press release, NARAL Pro-Choice America President, Ilyse, Hogue issued a statement that ended with the familiar message to get out the vote. She said, in reference to fighting the confirmation of Kavanaugh,
That fight does not end with this vote. Our message to Republicans is clear: we will never forget. Not tomorrow. Not in November. Not in 2020. Not ever.
Everytown For Gun Safety put out a statement on Oct. 6, stating it was "troubled" by Kavanaugh's confirmation. It also shared,
The gun safety movement is now laser-focused on November 6th, when we will make good on our promise to elect gun-safety champions who are not beholden to the NRA.
The official account of Democrats sent out a tweet urging people to vote.
Elite Daily reached out to the White House for a comment on the call from Democrats to vote in November, but did not hear back at the time of publication.
Meanwhile, the official GOP Twitter account retweeted a tweet from President Trump about the confirmation.
And Republican senators, like Sen. Lindsay Graham (R-South Carolina) and Sen. Chuck Grassley (R-Iowa), were thrilled with the confirmation of Judge Kavanaugh.
The anger from the Democrats comes in part from the situation surrounding Kavanaugh's nomination process. You'll recall that Brett Kavanaugh and Christine Blasey Ford testified before the Senate Judiciary Committee on Thursday, Sept. 27, after Ford came forward with allegations of sexual assault against Kavanaugh. Ford alleged that Kavanaugh sexually assaulted her at a party in the summer of 1982. Kavanaugh has categorically denied these allegations. Kavanaugh's representation did not respond to Elite Daily's request for further comment.
At the hearing, Ford shared that she felt a sense of civic duty to share the alleged assault with the committee. Even so, Kavanaugh's nomination to the Supreme Court was confirmed.
The partisan divide was visible during the vote on Oct. 6. With only one Democrat voting for the confirmation of Brett Kavanaugh, Sen. Joe Manchin (D-West Virginia) broke with his Democratic colleagues on the Kavanaugh vote. With a Republican majority in the Senate, it's no surprise that a call for Americans to vote in the upcoming midterm elections on Nov. 6, 2018. Even before the Ford allegations, Democrats were not happy with President Trump's nomination of Kavanaugh.
During his initial hearings, Kavanaugh was questioned on topics like a woman's right to choose and upholding Roe v. Wade, and his failure to give direct answers gave some people cause for concern. Replying to Sen. Dianne Feinstein (D-California) asking about abortion rights, he said he understands the "importance of this issue," but failed to directly answer whether he supported a woman's right to choose.
It was that and other issues like Kavanaugh's dissent in a 2011 gun control case that argued against upholding a ban on semi-automatic rifles in Washington D.C. Finally, per USA Today, Kavnaugh's failure to directly answer questions about whether a sitting president should be required to respond to a subpoena gave his critics pause, since he could be a deciding vote on whether President Trump can compelled to testify — or even indicted — as part of special counsel Robert Mueller's investigation of Russian interference in the 2016 election. President Trump has repeatedly denied any collusion with Russia and has called the special investigation a "rigged witch hunt."
With a clear partisan divide — and many people upset with the confirmation of Kavanaugh — you'll have to look to the polls in November to see if the call to vote was successful.