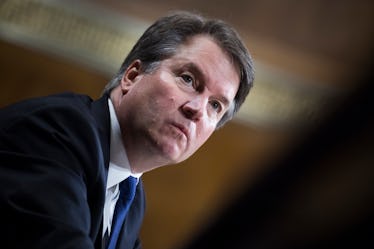 People Are Seriously Not Happy That Brett Kavanaugh Was Confirmed To The Supreme Court
Pool/Getty Images News/Getty Images
The past few weeks have been filled with conversations surrounding the American justice system and the future of America. Well, the long anticipated Senate Judiciary Committee vote has finally come to an end, and everyone has something to say about it. Just look at these tweets about the Senate's confirmation vote on Kavanaugh and decide for yourself how you feel.
On Saturday, Oct. 6, Brett Kavanaugh was confirmed to the Supreme Court by a vote of 50 Yeas to 48 Nays.
Kavanaugh's ongoing Supreme Court confirmation vote has been a topic of discussion for months, but as of a couple of weeks ago, tensions have gotten even higher. When Donald Trump announced that he would be nominating Kavanaugh to fill former Supreme Court Justice Anthony Kennedy's seat, I don't think anyone was expecting all the drama that would follow. On Sept. 4, Kavanaugh took the hot seat in front of the Senate Judiciary Committee, but even before that, protestors had gathered to fight against the nomination. Plus, throughout the hearing, a number of people even had to be escorted out of the courtroom due to violent outbursts directed at Kavanaugh and the Senate Committee.
That being all said, it's no surprise that Twitter had some serious opinions following the Senate's official confirmation vote on Kavanaugh, and were quick to share them as soon as the Senate announced their decision.
I don't know about y'all, but the recent uproar surrounding Kavanaugh's possible Supreme Court position has truly awakened a nation. Even though every Supreme Court decision is an important one, this particular situation might have had the highest stakes yet. In the beginning, it looked like Kavanaugh's future in the Supreme Court was set, but then everything changed. On Sept. 16, California professor Dr. Christine Blasey Ford came forward and accused Kavanaugh of alleged sexual assault while they were at a gathering in high school. Kavanaugh denied the allegations, saying they were "completely false." Elite Daily reached out to Kavanaugh's team for comment but did not hear back. As of Monday, Oct. 1, two other women, Deborah Ramirez and Julie Swetnick, have also come forward to accuse Kavanaugh of alleged sexual misconduct. In response to the allegations, Kavanaugh released a public statement through the White House denying the accusations. Elite Daily reached out to the White House for comment about the allegations at the time, but did not hear back. The statement, as shared by USA Today, read,
This alleged event from 35 years ago did not happen. The people who knew me then know that this did not happen, and have said so. This is a smear, plain and simple. I look forward to testifying on Thursday about the truth, and defending my good name – and the reputation for character and integrity I have spent a lifetime building – against these last-minute allegations.
Since the accusations surfaced, the Senate Judiciary Committee decided to delay their vote on Kavanaugh until they could hear Ford's side of the story. At first, it didn't seem like Ford would testify for a few reasons: One, because of the public backlash she and her family had reportedly received after coming forward, and two, she wanted the FBI to conduct an investigation into Kavanaugh before she testified. Despite her hesitance, Ford bravely appeared before the Senate Judiciary Committee on Thursday, Sept. 27 and delivered her testimony against Kavanaugh. During the hearing, both Ford and Kavanaugh answered the Senate's burning questions, but no one knew for sure how the entire ordeal would pan out.
Regardless of the Senate's decision, this event has truly inspired individuals from all over to stand up and speak out for what they believe in. No matter the pushback, never silence your voice.
More to come.