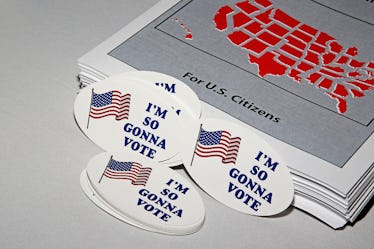 Here's How To Find Your Polling Place For The Midterms, Because It's Pretty Important
Paul Zimmerman/Getty Images Entertainment/Getty Images
Voting is super important, but often times it can be daunting to get all the details down. When to vote? How to vote? How to register? The list goes on, but figuring out the answers to all those questions won't get you anywhere if you don't know where to go and vote come Nov. 6. In order to cast your ballot you'll have to figure out how to find your polling place, but don't worry, because I'm here to walk you through the simple process. You can thank me later.
The registration process is in your rearview mirror and now it's time to figure out where to go on Election Day. But how to find where to go? Well, it's pretty easy, given that you know your address. Head on over to Vote.org and right on the home page you'll see a red button that says "find your polling place." Once clicked, a new page will pop up with two options on how to find your polling place. You can either find your state on the list and use their individual polling place locator, or just type in your address in the "polling place locator" at the top of the page. Here's the catch though: even if you opt for the main polling place locator, it might not have the information available for your address. If that's the case, you'll have no choice but to use the one for your state.
Next steps vary a little by state, but are pretty standard for the most part. Some polling place locators, for instance the New York one, will ask you to fill in your name, but most just ask for your address or, like Iowa, just your zip code. Either way, the whole process will take under five minutes.
Now that you know where to go on Nov. 6, it'll probably also be pretty helpful to know what you have to bring with you. Like most things in regards to voting, it depends on what state you live in. Some states require you to have a ID (some even mandate that it's a photo ID) in order to vote, while others simply ask that you sign a document that validates your identity, according to USA.gov. Head over to the National Conference of State Legislatures (NCSL) website to check the specific voter ID laws where you live and learn what your state requires you to have in order to vote. If you're a first-time voter who did not register in person, then USA.gov notes you will have to bring some form of ID with you to your polling place.
Once you know where to look, figuring out the voting process is pretty simple. Now that you have all the tools you need at your disposal, make sure you use them to learn where to vote and what to bring with you so you're totally prepared with everything you need to cast your ballot for the midterm elections on Nov. 6. No need to thank me — just get out and vote.