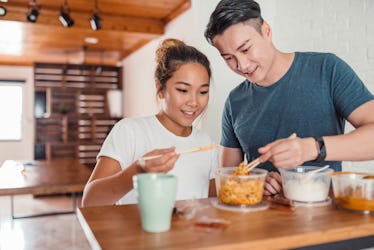 These At-Home Fall Dinner Experiences For 2 Are Tasty & Won't Break The Bank
lovro77/E+/Getty Images
Planning cute fall dates is something you always look forward to, and now, it's time to take things to next-level coziness. At the end of your adventurous autumn days at the pumpkin patch and apple orchard, you're usually pretty hungry and looking at your SO like, "Well, should we order takeout or cook something?" So, why don't you have a date totally centered around cuisine? These fall dinner experiences for two at home are easy to plan, loads of fun, and won't even break the bank.
Essentially, they're like cookies and milk or peanut butter and jelly: the perfect combo. Not only do they deliver flavor right to your front door, but they're also super budget-friendly. Some will require you and your SO to cook a meal in your kitchen and use the spatulas, pans, and strainers you always do to prepare a dish together. Others will require less "work" and allow you to focus on flavors and flirting with each other.
Enjoy them while burning a fall-scented candle or talking about what you want to dress up as for your Halloween IG post. Getting a dessert from your favorite local restaurant may take these dinners for two to the next level, too. Of course, they're also enough to enjoy all on their own. Find one that sounds tasty and romantic to you. Bon appétit!