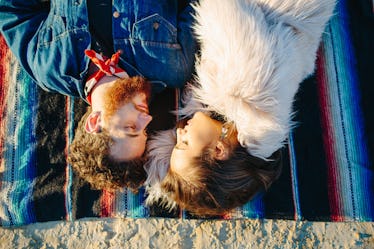 If Your Partner Avoids Answering These 5 Questions, They Might Be Cheating, Experts Say
Unfortunately, cheating happens. Sometimes, people do it once. Other times, it becomes a habit. Whether you and your partner have been together for a few months, or for a few years, being cheated on is never a fun feeling. If you have reason to believe your partner may be cheating on you, first off, stay calm. Don't jump to conclusions just yet, because it may not be what you think. But if your intuition just can't shake that something's off, keep an eye out for the questions your partner may avoid if they're cheating. With this in mind, you'll know how to approach the situation if you feel like they're hiding something.
Before diving into it, remember: If your partner avoids any of these questions, it doesn't mean they are definitely cheating on you. "If you feel he or she is hiding something once, it may be nothing," Pricilla Martinez, online life coach at Blush, tells Elite Daily. "They probably don't want to involve you at that particular moment. However, a pattern of hiding things or lying is a more deep-rooted issue." If you do start to notice a pattern in your partner's behavior, that's a different story. But, more on that later.