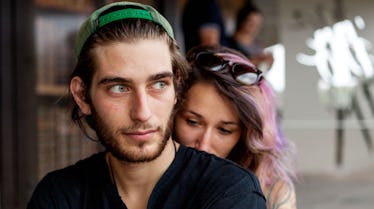 5 Signs Your Partner Is Micro-Cheating, According To Experts, So Keep An Eye Out
When you're single and looking for love, it can seem like being in a relationship is all sunshine and rainbows. But the fact of the matter is that relationships are hard work. And then, once you're in a relationship, you have to establish trust so you're not constantly doubting your partner. Being cheated on is no fun, but micro-cheating is a whole different ball game. I spoke to several experts about the signs of micro-cheating you should keep an eye out for, because if you notice them, then it might be time to have a serious talk with your SO.
Maybe you haven't heard of micro-cheating. That's OK. Basically, it's exactly what it sounds like. According to Pricilla Martinez, an online life coach at Blush, "Micro-cheating is behavior that can have undertones of infidelity but isn't physical. It can be flirtatious and usually emotionally driven." So whether or not you're in a relationship and worried about your partner micro-cheating, it can still be helpful to know what signs to look out for.
But, it's also important to establish with your partner what you each consider to be acceptable behavior. You have to talk about what you're OK with, and establish a set of boundaries that you each know not to cross.
But, if you've done all that, and are still concerned that your partner might be betraying your trust, then these signs of micro-cheating can definitely be helpful in figuring out what's actually going on with your partner.