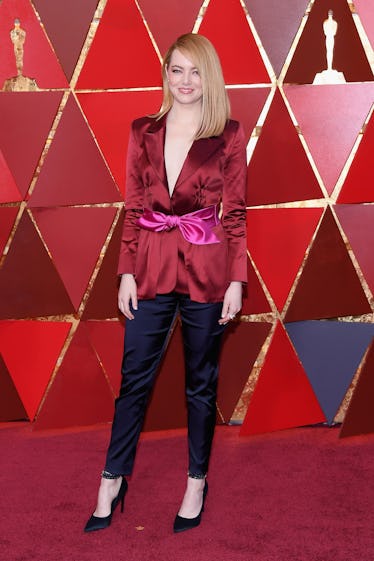 Emma Stone's Brother Is Her Date To The Oscars & It's Getting Hot In Here
Kevork Djansezian/Getty Images Entertainment/Getty Images
The 2018 Oscars is happening right now, and we have seen a ton of amazing looks gracing the red carpet. Some of them are truly stealing the spotlight. Most especially, Emma Stone's brother is her 2018 Oscars date, and boy is it getting hot in here.
Do you remember last year's Oscars 2017 mixup when it was announced that La La Land won Best Picture, but then they were like, just kidding... it's actually Moonlight? Stone did manage to take home Best Actress, though. Not up for any awards this year but there to present, Stone strolled onto the red carpet rocking a Louis Vuitton suit, but the real thing she was rocking was her date, aka, younger brother Spencer Stone.
Stone first brought her brother to the 2015 Golden Globes — but it wasn't until the 2017 Golden Globes that the younger Stone sibling showed up on our radar and had everyone asking, "Who the heck is that dreamboat?!" So, I was not surprised that Stone decided to bring her smokin' hot brother with her again. I mean, why would you deprive the people of what they want?
Sure, you might have thought Stone's steamy bro is old news, but Twitter was all too excited to be reminded.
Not only are viewers at home digging some Spencer, but it looks like JLaw shared some laughs with Stone's younger brother and made us all too jealous.
For real though, people cannot handle the heat. Spencer Stone is 27 years old and though not as well-known as his older sister, according to Romper, he too is in the Hollywood fold as a stunt double. He's most popularly known for his work in movies such as Divergent and Sharknado.
At the 2017 Golden Globes, Stone had her little brother join her E! News interview with Ryan Seacrest on the red carpet. The only question the seasoned interviewer managed to get out to little Stone was, "How old are you now?" Spencer answered "26," to which Seacrest replied, "That's what I thought."
Another highlight that will live on forever from that interview was when Seacrest asked Stone about her dress and the response was, "It's pink and there are stars on it." This was not only true, but also had people excited because everyone was tired of women being asked about their clothing on the red carpet. The epic response truly deserved an applause.
The idea, in recent years, has been for presenters to #AskHerMore. The campaign was started by The Representation Project to create a push for people to, according to the website: "call out sexist reporting and suggest ways to re-focus on women's achievements," not just what they're wearing. It's also backed by big names like Reese Witherspoon, Shonda Rhimes, and Gloria Steinem who have all made it a point to express their support for such an important movement.
Therefore, Emma Stone's comment back to Seacrest, in a way, diverted the attention away from her getup.
Stone always slays at award shows, but having her hunky brother on her arm makes the whole entrance score such a touchdown in our hearts. Some might say, maybe Stone should stop bringing her little brother along because he is outshining her just a little bit. But, if you ask me, I don't think anyone can outshine Emma Stone. She always brings it, and then some. It's fine, the Stone siblings can share the spotlight. With that being said, there's just one more very important thing I need to ask: Can I get an invite to family Thanksgiving? Holler at me, because I will so be there.