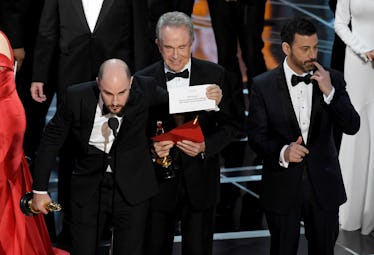 Here's The Video Of Last Year's Oscars Flub, In Case You Want To Cringe One More Time
Kevin Winter/Getty Images Entertainment/Getty Images
When presenters Warren Beatty and Faye Dunaway unknowingly held the wrong envelope onstage at the 89th Academy Awards last year, no one could have predicted the cringe-tastic chaos that would erupt following their announcement of the incorrect Best Picture winner. The victory speeches from the La La Land production team were quickly disrupted by backstage staffers bringing out the right envelope and revealing underdog film Moonlight as the actual winner. It was the mistake seen round the world, and with the 2018 Oscars now less than a week away, this video of the 2017 Oscars flub will still make you fidget uncomfortably.
The historic error has since led to a new set of rules for this year's ceremony. Attendees and staff must now adhere to a backstage ban of phone and social media usage, while a third PricewaterhouseCoopers accounting partner will help double-check winners upon the announcement of their names. Such changes were made to prevent the long response time to last year's La La Land mistake, and officials are confident that a monstrous error like that won't happen again. Academy CEO Dawn Hudson told Entertainment Weekly:
Let me tell you, I don't think this error will ever happen again or would happen again. We put in a lot of protocols to make sure it won't, but I don't think it will anyway. I think everyone will be very focused on getting that right.
In case you forgot, last year's epic Oscars fail just seemed to grow progressively worse as time went on. Let's roll the tape, shall we?
Reuniting in honor of the 50th anniversary of their film Bonnie and Clyde, Beatty and Dunaway weren't obvious picks to announce Best Picture. It's safe to say that any viewers under 25 probably had no clue who they were but just figured they were important because the audience gave them a standing ovation. Knowing so little about the two only made Beatty's dumbfounded hesitation upon reading the envelope even more awkward.
As Beatty later clarified, the envelope was actually a duplicate announcing La La Land star Emma Stone's Best Actress win, which had already been awarded. Seeing her name on the paper confused him so much that he showed it to Dunaway, who just rolled with it, declaring La La Land the night's big winner.
This is what happens when you don't just book Oprah or Tom Hanks to announce every Best Picture win at any and all award shows.
Given the film's succesful awards season prior to the Oscars, its win was totally believable, if not anti-climatic. While the first two producers' acceptance speeches flowed smoothly, the tone onstage quickly shifted, with La La Land people noticeably looking sideways and a man with a headset darting toward the microphone. Cue my sleepy self suddenly sitting up on the couch as Headset Guy snatched away the envelope to observe it.
By the time the third producer reached the mic, something definitely wasn't right. He knew it too, announcing to the audience, "We lost, by the way."
La La Land producer Jordan Horowitz became an internet hero for sharing the mistake, directly informing the Moonlight team that they had won and lifting the proper envelope to the audience's viewpoint. As horrible as this moment was, Horowitz's genuine desire to award the right people came across well, especially compared to host Jimmy Kimmel floundering over the error.
Thus, the theme of promos for the 2018 Academy Awards was born.
Looking back at the moment a year later, it's difficult not to think of Moonlight without picturing the stressful mistake leading up to its official win. Critics would say that the flub stole away some of the glory the movie deserved, and it wasn't long before the error inspired a very timely meme.
Fingers crossed that this year's awards will avoid such a groundbreaking moment. After all, I don't think Kimmel can handle another blunder under his watch.
The 90th Academy Awards begin on Sunday, March 4 at 8 p.m. ET on ABC.