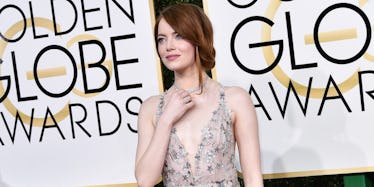 5 Times Emma Stone Stole The Show At The 2017 Golden Globes
REX/Shutterstock
I'm sure there were a few other people at the 74th Golden Globes, but Emma Stone was really the only celebrity who mattered — and Meryl Streep.
"La La Land" dominated and took home the award for Best Musical or Comedy, Ryan Gosling won for Best Actor in a Musical or Comedy, Justin Hurwitz won for Best Original Score and Damien Chazelle won for Best Direction and Best Screenplay.
The best thing to come from the movie, though, was Stone's presence. The 28-year-old star took home the award for Best Actress in a Musical or Comedy, absolutely stealing the Golden Globes in the process.
Here are the five times that Emma Stone showed the rest of Hollywood how to work an awards show:
1. Her Arrival
From the second Stone arrived at the venue, she absolutely slayed the step and repeat.
2. Her Dress
Her Valentino dress was a clear standout amongst other Hollywood elite attending the show. Her response to Ryan Seacrest asking her about the dress was really what made the whole ensemble perfect:
Well, it's pink and there are stars on it.
BURN! SUCK IT, SEACREST!
3. Her acceptance speech
Through tears, Emma thanked her mom, brother and "Doug" for helping her make it through almost exactly 13 years of living in LA. She then went on to thank the standard group of Hollywood people (studios, execs, Ryan Gosling, etc) for helping her get to this point.
On top of all that, Stone got her ex Andrew Garfield to give a standing ovation while she accepted her award, making us all feel something real deep down in our feels.
5. Ryan Reynolds and Andrew Garfield's kiss
If you blinked, you might have missed this moment from the show.
While Ryan Gosling was walking up to accept his award, Ryan Reynolds and Andrew Garfield got mouthy with each other.
Emma's reaction to the make-out sesh was absolutely perfect.
Go out in the world today and be the best Emma Stone you can be.
Citations: Emma Stone Had the Perfect Answer When Ryan Seacrest Asked About Her Dress (Time)