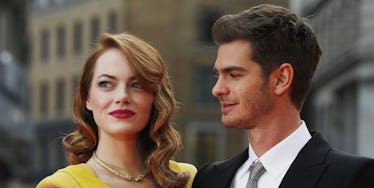 Andrew Garfield Gives Ex Emma Stone Cutest Standing Ovation At Golden Globes
REUTERS
Not to pressure people I don't know into doing something they might not want to do, but Andrew Garfield and Emma Stone should probably get back together.
I mean, if Andrew is going to do adorable, heart-warming things like jump to his feet and applaud — with far more enthusiasm than anyone else around him — when Emma wins a Golden Globe... yeah, they should probably be dating.
"La La Land" cleaned up at the 2017 Golden Globes, and Emma Stone was no exception. She took home Best Actress in a Musical or Comedy — over Meryl Streep and Annette Bening.
No one was more excited about this win than Emma's ex, Andrew Garfield (who was nominated for his role in "Hacksaw Ridge").
Look closely as Emma makes her way to the stage. See Andrew back there, clapping his little heart out?
He is one of the few people standing, because he's just that supportive.
THERE'S STILL HOPE, PEOPLE!
True, Andrew and Emma broke up over a year ago now.
They started dating while they were filming "The Amazing Spider-Man" in 2011 and broke up in the spring of 2015.
They were always private about their relationship, but never forget the time they made out in many different and increasingly sloppy ways on "Saturday Night Live."
Just saying — their love was beautiful.
Of course, the standing ovation was not the only romantic gesture Andrew made at the Globes.
When Ryan Gosling won his award for "La La Land," Andrew shared a pretty special moment not with Emma, but Ryan Reynolds.
And by "special moment," I mean they totally made out with each other's faces. Like, a lot.
After the show, a reporter showed Ryan (Gosling) and Emma a video of the kiss. Emma was pretty surprised... and maybe a little bit jealous?
She said,
They did not kiss each other! They did?!
That could be you Emma, but you playin'!
In conclusion, Andrew and Emma should date again. The end.
Citations: Emma Stone Wins First Golden Globe, Gets Standing Ovation From Andrew Garfield (Entertainment Tonight)