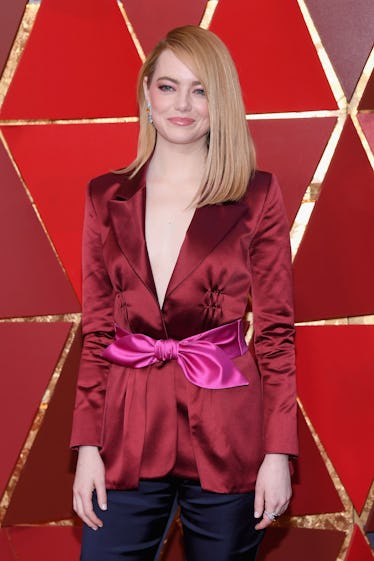 Emma Stone Just Defied Fashion Common Sense & Totally Won The Oscars
Kevork Djansezian/Getty Images Entertainment/Getty Images
Emma Stone won the Oscar for Best Actress at the 2017 Academy Awards, which means she'll be presenting at this year's ceremony. The actress has sparkled in years past, and Emma Stone's 2018 Oscars look is no different. Stone's style is often old-school Hollywood glam, and she is keeping her personal trend going again at this year's biggest night in Hollywood.
Stone received her first Oscar nomination in 2015 for Best Supporting Actress for her part in Birdman. In 2017, Stone earned herself a win of Best Actress in a Leading Role for her phenomenal performance in La La Land. La La Land also famously accidentally received the statue for Best Picture at the 2017 Oscars (Moonlight was the real winner), a moment that will live on in social media infamy. Despite the almost unbelievable false announcement, Stone rightfully won for her part in La La Land, where she acted alongside my long-time celebrity crush, Ryan Gosling.
In 2017, Stone wore a gold beaded gown that was reminiscent of the Oscar statuette that she won. The actress dressed to win — and it paid off. This year, Stone will be presenting the award for Best Supporting Actor, and she dressed down a bit (I assume she is enjoying a less nerve-filled evening at the Oscars this year).
2018 Oscars Red Carpet
Stone defied many fashion rules with this year's Oscars look. The actress wore pants instead of the typical gown, and paired pink and red together — an old fashion no-no. Stone has rewritten the rules with this look, though, and I'm saying yes-yes to pink and red suits instead of golden gowns. She paired her look with simple black pumps and didn't carry a purse. Her plunging neckline stood on its own without a necklace, making sure the spotlight was on her unique jacket.
Stone's suit is by fashion giant Louis Vuitton, put together with the help of stylist Petra Flannery. The look's focal point is a tailored, satin, red blazer, held closed by a pink satin sash. Stone wore a ruby cocktail ring and diamond drop earrings.
The La La Land star's beauty look was rather minimal — her makeup featured soft pink eyes and lips, and her hair was worn straight with slightly curved ends. Stone recently permed her hair with one of her friends, but straightened it back out for the big night.
Stone pretty much always kills it on the red carpet, but let's talk a walk down memory lane of her best looks, shall we?
2017 Oscars Red Carpet
Stone wore a gold, beaded Givenchy Haute Couture gown. Her hair was styled into soft waves, a modern take on '20s style curls. The hair matched her fringed, flapper-style gown.
The actress had some fun with her makeup, wearing sparkly gold eyeshadow, and a bold red lip. She also took a small political stance and wore a gold Planned Parenthood logo pin.
Stone gave a closer look at the epic beadwork on her dress after she won her statue. Between the golden gown, the metallic eyeshadow, the gold Planned Parenthood pin, and the actual Oscar statue, Stone looks like she was dipped in a vat of 24k gold.
2017 Vanity Fair Afterparty
After Stone's Best Actress win in 2017, she changed into a more casual look to hit theVanity Fair afterparty. The actress stuck to her designer of the night, Givenchy, but wore a silk, slip mini-dress under an oversized embellished blazer. She swapped out her Planned Parenthood pin for a blue American Civil Liberties Union (ACLU). Stone pulled her hair back into a bun and added some darker eyeshadow for a smoldering look.
Moral of the story: Stone continues to show off her versatile fashion style and slays the red carpet game no matter where she goes.