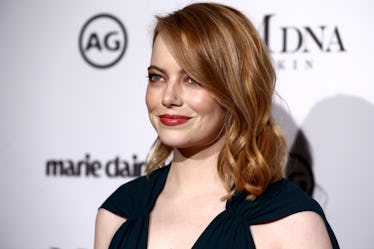 Emma Stone Got A Perm & My Flat Iron Is Going In The Trash
Rich Fury/Getty Images Entertainment/Getty Images
Actors often undergo extreme hair and beauty transformations for movies, but occasionally they do it just for the heck of it. Emma Stone is one such celeb who changed her hair on a whim, and the style is not what you'd expect. Photos of Emma Stone's perm are proving that the retro hair style is back in a modern way.
Stone and her friend Rachel Goodwin, who is also the actor's makeup artist, had a BFF spa day where they each got hair makeovers. My first thought for a hair makeover would be to cut or color it, but Stone and Goodwin opted for a perm! What is a perm, anyway? It's a chemical treatment that permanently (hence the name) alters the shape of your hair. The hair is chemically relaxed and then shaped into whatever size curl you desire (it can also be straightened this way). It's permanent on your existing hair, but new hair that grows in will be your natural texture. It's still a very permanent and intense hair treatment, which is why I was pretty shook by Stone's new do!
Considering the nature of the hairstyle, Stone and Goodwin likely planned the perm long in advance, but it's news to me. Hey Emma, I didn't get your text about the salon day, did the message go through on your end? Anyways, prepare to hit up your grandma for curl advice.
"We have a permanent bond! Some friends get tattoos, well we get perms! We're here to tell you that they are BACK and they're not your grandma's perm! Especially when you are in the amazing hands of @mararoszak and @bykileyfitz at @mare_salon #curlyisthenewstraight this is the #newwave," captioned Goodwin. Don't they look glamorous?
Goodwin posted multiple photos of the two friends in matching alien-style headgear. The two are wearing flexible rod-style curlers which are good for smaller curls and easy to manipulate to get the curls exactly how you want them. Conair's Flexible Rollers ($15; ulta.com) are a good option to try at home — chemical perm not included, but you can use a blowdryer for temp curls.
The friends clearly had a long day at the salon seeing as Goodwin posted so many photos of the transformation. Goodwin graciously credited their specific hairstylists; Kylie Fitzgerald and Mara Roszak, both of Mare hair salon in West Hollywood.
"Ladies and Gentlemen this is a PERM on @lolakirke !! We are so excited to offer them @mare_salon 💫 They are gorgeous and sexy and totally customized. Message me or call Mare for inquiries! #perm #newdo #yesss," posted Roszak.
One of the hairstylists, Roszak, had given actress Lola Kirke a perm only days before Stone got hers. Stone may have even gotten her inspiration from Kirke's look. Wow, a celebrity getting #hairsinpo from Instagram, they're just like us!
Stone and Goodwin snapped one last selfie to show of their final look. The ladies went for small waves and a tousled beach hair vibe. This photo was most likely taken directly after the perm job, I can't wait to see how Stone wears her hair in the next few days!
Stone has worn her hair in soft curls before, sometimes in a more old Hollywood glamour style. This look is from the 2017 Academy Awards.
She's also played around with color, bouncing around between different shades of red and blonde.
Stone's hair was most similar to her current perm style back in September of 2016. The actress went for a low-key waves look for a Stand Up To Cancer charity event.
Whether you like Stone's new look or not, I have to give her props for trying out such a daring new look. #YOLO.