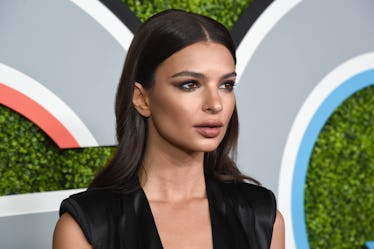 Emily Ratajkowski's Husband Didn't Propose With A Ring, But With This Random Object
Michael Kovac/Getty Images Entertainment/Getty Images
Why settle for a plastic ring from a gum-ball machine when you can walk into Staples and get your hands on an exact replica of Emily Ratajkowski's engagement ring? Up until now, no one knew exactly how Emily Ratajkowski and Sebastian Bear-McClard got engaged. But the supermodel-turned-actress revealed on The Tonight Show Starring Jimmy Fallon that her husband of six weeks popped the question with a paper clip.
Ratajkowski told Fallon that she initially declined the surprise proposal because Bear-McClard didn't come prepared. "He proposed to me at Minetta Tavern [an upscale restaurant in New York City], and he didn't have a ring so I was like, 'Mmm, nah.'" Obviously. But Bear-McClard quickly improvised. "He took the paper clip that the bill was paid with and made me a ring, which I actually thought was really romantic."
I mean, this sort of thing only happens in the movies, right? So basically, she's a supermodel and a real-life Disney princess. The quirky but romantic duo kicked things up a notch when they decided they wanted to get married at City Hall in New York City only 24 hours later and that they would design their own wedding bands. Seriously, who is working on the movie rights to this story?
Ratajkowski told Fallon, "I guess I didn't really know what I always wanted to do, which is maybe why it was so untraditional... We made our actual rings. We walked into Chinatown and bought a little piece of, like an ounce of gold, and he was like, 'We'll melt down the gold and make the rings.' Right, so I was like, 'I just don't see us melting down gold, that just seems kind of difficult.' But then he ended up going to some store in Midtown — this is the night before our wedding, by the way — and this very nice man was like, 'I know how to do that.' So we came into his studio after hours and we actually hammered them out, the whole thing, used a little blow torch. And they were supposed to be temporary rings but now I'm very attached and I really don't want to get rid of it."
BRB while I sob uncontrollably because this is literally the most romantic thing I've ever heard.
Ratajkowski shocked her almost 20 million Instagram followers on Feb. 23 when she revealed via Instagram Story that she and Bear-McClard (who had only been dating for a few weeks at the time) got married at an intimate, courthouse ceremony.
Another kick in the shin for tradition, Ratajkowski wore a mustard-yellow pantsuit and an elaborate, black hat to say, "I do" — all part of her attempt to keep things quiet, she explains. Only a handful of the couple's friends were invited to celebrate with the couple, including Instagram personality and Bear-McClard's former classmate The Fat Jewish. Ugh, lucky.
Fans can get their next Ratajkowski fix in the celeb's latest project, I Feel Pretty, which premieres on April 20. In the film, Ratajkowski stars alongside comedian Amy Schumer, whose character uncovers an overwhelming sense of self-confidence after hitting her head in a Soul Cycle accident.
Incidentally, Schumer and Ratajkowski share a lot in common in real life, too. Like Ratajkowski, Schumer also had a surprise wedding to now-husband Chris Fischer just before Valentine's Day. Love isn't dead, people! Reportedly, Schumer and Fischer had only been together for a few months prior to getting married but somehow managed to keep their relationship a secret. Props to them.
Schumer says it only took a month to know that he was the one and about three to four days to plan the wedding. Meanwhile, I've spent more time deliberating on which pairs of shoes I should splurge on. "I got that feeling where all the blood goes to all the places," the star told Howard Stern in a recent interview.
I guess it's true what they say, "When you know, you know." Cheers to the happy couples taking Hollywood by surprise!