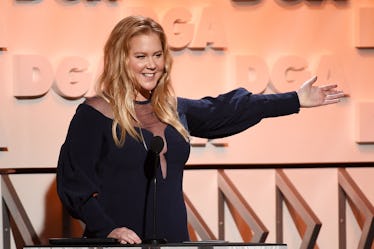 Amy Schumer & Her New Boyfriend Secretly Got Married & Fans Are Shocked
Kevork Djansezian/Getty Images Entertainment/Getty Images
Wait a second... have I been sleeping all winter? Apparently Amy Schumer married chef Chris Fischer right before Valentine's Day, and I somehow missed not only their entire relationship form, but also her breakup with that other guy. You guys, I LOVE SURPRISES! Congratulations, Amy!
Last time I checked, Schumer was telling us a hilarious story about how she and her ex-boyfriend Ben Hanisch got food poisoning at the same time in Paris. Time to WAKE UP, LEELO, because that ship has freaking sailed. Schumer and Hanisch broke up May of 2017 after about a year and a half of dating, and now she's Mrs. Fischer.
By early June, Schumer was already talking about dating a new guy. According to People, she was speaking at a Hilarity for Charity Variety Show in New York City and mentioned her new love interest. Schumer commented, "I'm dating this new dude. He's awesome, he's like Stephen Hawking, sexually." If you're doing the math, that means she and Fischer could have been together just under 10 months.
Sure, did I move in with my fiancé after dating for six months? Yes. Did we wait four years more to get engaged? Yes. The point is, that whole "When you know, you know!" thing is real, people, and Schumer obviously knew.
Though this relationship was obviously thriving behind the scenes, Schumer didn't confirm anything until Feb. 11, 2018, when she posted a black and white photo of her and Fischer kissing at Ellen DeGeneres' 60th birthday party. Two days later, they were married.
According to US Weekly, Schumer and Fischer had an intimate ceremony at a rented house in Malibu, California. The guest list was star-studded, with Schumer's close friends Jennifer Lawrence, Jennifer Aniston, Larry David, David Spade, and Judd Apatow in attendance. The publication says "a comedian officiated" the ceremony, but no name was given. My money is on Schumer's sister and manager, Kim Caramele, but that's just because they do everything together.
According to an insider, the whole thing was very low-key. The source explained,
It was a very chill wedding. It was thrown together last minute. Most of the guests found out the wedding was happening on Tuesday from a text message sent out by Amy on Sunday. It was like, 'Hey, this is happening. If you can make it, great. If not, no worries.' People were in and out all night. It was a gorgeous day. Everyone was having a good time.
Schumer's bestie and equally hilarious performer Bridget Everett told US that she had already met Fischer by December, and Schumer is "head over heels in love" and "very happy."
Admittedly, I don't know sh*t about Fischer, but that's because he's a famous, fancy chef and I only eat family sized Cheerio boxes for breakfast, lunch, and dinner. US explains he lives on a plot of land called Beetlebung Farm in Martha's Vineyard, where his family has lived since 1961. He also owns a restaurant called Beach Plum, and apparently, it is a huge favorite of former POTUS Barack Obama. NOT A BIG DEAL.
Between Fischer's cooking and Schumer's sense of humor, these two are primed to host one hell of a dinner party.
We suspect Schumer will eventually make a witty, off-the-cuff statement or announcement about her new hubby, but for now, I'm sure they're just somewhere enjoying each other's company and whatever kind of food grows on a farm in Martha's Vineyard.
Congratulations, you two, wild kids! Call me next time!
Check out the entire Gen Why series and other videos on Facebook and the Bustle app across Apple TV, Roku, and Amazon Fire TV.