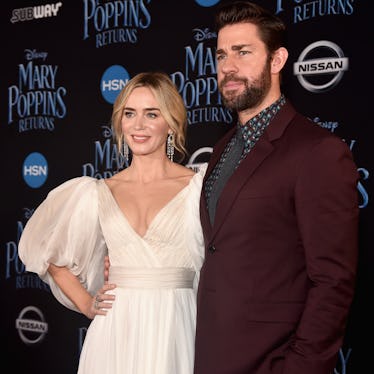 Emily Blunt & John Krasinski's Body Language At The 'Mary Poppins' Premiere Was So Sweet
Alberto E. Rodriguez/Getty Images Entertainment/Getty Images
Emily Blunt and John Krasinski are one of the most likable celeb couples out there. Between their mutual charm, ridiculously good looks, and A-plus acting skills, these two are a power couple with the ability to make anyone swoon. And one of the best things about these two is how supportive they are of each other's many career endeavors, including (but definitely not limited to) Blunt's newest role as Mary Poppins in Disney's live-action version of the classic film. In fact, Emily Blunt and John Krasinski's body language at the Mary Poppins premiere proves that our obsession with them is totally valid: This couple is absolutely, head-over-heels in love. Like, really in love. Beyond ridiculously in love.
ICYMI, Blunt is stars in the new Disney film, Mary Poppins Returns, which hits theaters Dec. 19. The movie is a continuation of the 1964 classic starring Julie Andrews, and will see Blunt's Poppins return to the Banks' household to help with a new generation of children who need her special brand of magic and love. Krasinski and Blunt supporting each other is nothing new, so their adorable body language probably won't come as much of a surprise. After all, this is the same Krasinski who watched Blunt in The Devil Wears Prada 23 times, and who bawled uncontrollably when he first saw his wife in Mary Poppins Returns.
This couple truly seems like one that's built to last, and a closer look at their body language proves it.