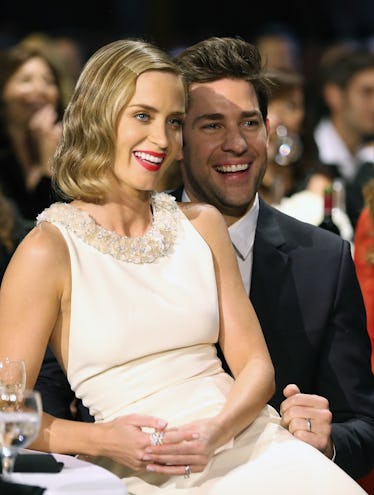 Here's What Emily Blunt & John Krasinski's Body Language Says About Their Love
Christopher Polk/Getty Images Entertainment/Getty Images
Have you seen A Quiet Place, yet? If not, you should. It's an incredible movie that's both emotionally devastating and absolutely terrifying. I've never found silence as tense as I did while shoving anxious fistfuls of popcorn in my mouth throughout the film. But the reason that it worked — the reason I was literally at the edge of my seat — was due in large part to Emily Blunt and John Krasinski's body language in the performance.
The powerful chemistry and the connection they share leapt off the screen and made me really believe they were a couple facing horrifying circumstances. You root for them both on and off the screen, because knowing that they're a real couple with two children (like their character counterparts) blurs the line. And their romance IRL seems to be truly one for the ages. If there's any celeb couple I'm rooting for, it's these two.
A little back story: They first met through a friend in 2008. Krasinski told Ellen DeGeneres that at the time, he wasn't looking for a relationship, but when he met Emily that all changed. "I was so nervous," he said. "I was like, 'Oh God, I think I'm going to fall in love with her.' As I shook her hand I went, 'I like you!'"
The two married in 2010, at George Clooney's swanky estate in Lake Como. (Celebrities! They're just like us! Ahem.) In 2014, the couple welcomed their first child (a daughter named Hazel) and two years later they had a second (a daughter named Violet). Along the way, they've continued to be adorable and gush about their love. "When I feel the support that I have from him, I feel invincible," Blunt told InStyle. "There's someone behind you on your good days, and someone in front of you on your bad days." So yeah, they're pretty much relationship goals.
Sure, they talk a good game, but could they possibly be as happy and in love as they seem? To get to the bottom of all things Blunt and Krasinski, I reached out to Patti Wood, body language expert and author of Snap: Making the Most of First Impressions, Body Language, and Charisma to share what she sees when looking at their over the years.