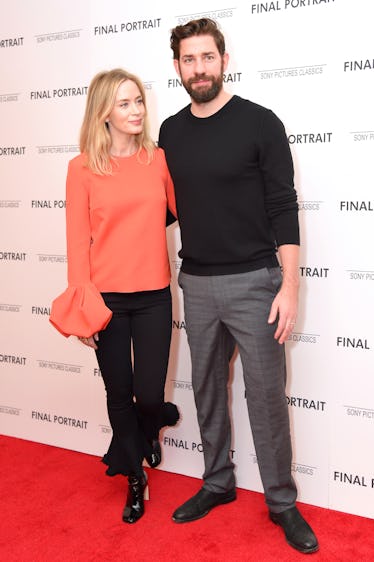 Emily Blunt Just Revealed When She Knew John Krasinski Was "The One" & I'm Sobbing
Michael Loccisano/Getty Images Entertainment/Getty Images
Sometimes, it feels like everywhere you look another power couple is breaking up. Fortunately, that is so not the case with Emily Blunt and John Krasinski! As one of my personal favorite Hollywood duos, these two are going strong. They're starring in films together, looking sweet as pie on red carpets, and singing one another's praises. In fact, a new interview reveals Emily Blunt knew John Krasinski was The One very shortly after meeting him, and the rest of their love story is just as delightful. Bless them.
Despite these two actors being shockingly beautiful, there's also something very approachable and human about Blunt and Krasinski. In my mind, we could almost be friends IRL. (Ya know, if I could afford to hang out wherever they hang out.) Listening to Blunt talk about seeing Krasinski for the first time makes me wish I was there so bad! Blunt told the story to People magazine's editor-in-chief, Jess Cagle, during the latest episode of his show, The Jess Cagle Interview. She explained, "It's not a terribly interesting story..."
Yeah. Sure. Try us, Em!
She continued,
We were in a restaurant. He was also in the restaurant. I was sitting with a mutual friend and we were talking and discussing how much I was enjoying being single. And then she said, 'Oh my god! There's my friend John.' And, that was it.
That. Was. It.
Cagle asked if she poked fun at Krasinski's hit show at the time, The Office, considering it originated in her home country. Blunt said,
I had not seen his version. I had not seen it. So I did a sort of cram-watch of several seasons. I kind of knew who he was but not terribly well. Which he likes to say that I had no idea who he was...but [I say], 'Then you knew I liked you!' So, it's real.
She added she knew he was The One "disarmingly soon" after meeting him, and in fact, the two were engaged within 10 months. Blunt added, "We probably knew before that."
Ugh, love. I live for this. Yes.
The truth is you don't have to work very hard to find a slew of wonderful things these two have said about each other.
Their first film together, a horror flick called A Quiet Place, comes out Friday, April 6, and was actually directed by Krasinski. Some of us might think it's stressful to work so closely with a spouse, but not for these two. Krasinski instead gushed to Vanity Fair about what it was like to watch his wife act. He said,
The air changes in the room when she starts doing what she does. It's so honest and so pure and so powerful. It's like a superpower that she can just unlock and do so specifically with not many attempts. For me, I love acting, and I'm so lucky to be doing it. But she's on another plane. This weird intersection happened while filming where I totally forgot I was her husband. I was just watching her performance and was lucky enough to be in the front row.
Hilariously and in contrast, Blunt told the magazine, "I had concerns that we might kill each other, just gently throttle the life out of each other during the process."
Fortunately, they didn't. And the trailer looks intense AF. If horror isn't "your thing," maybe don't watch.
I am so freaking glad the movie is fake and their love is real.
Check out the entire Gen Why series and other videos on Facebook and the Bustle app across Apple TV, Roku, and Amazon Fire TV.