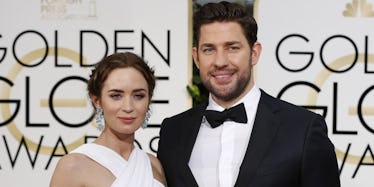 Emily Blunt And John Krasinski Are Finally Working Together On A New Project
REUTERS
It's true. After about two years of dating and six years of marriage, John Krasinski and Emily Blunt are finally working together.
The couple, who have two daughters together, will be joining forces for a new project based on the 1997 classic film "Good Will Hunting," which was originally directed by Gus Van Sant.
John Krasinski will be directing a table read of the film in New York City on October 7. This means the 36-year-old will be directing a reading of the original script prior to production.
The event description reads,
Guest director John Krasinski ('The Hollars,' '13 Hours,' TV's 'The Office') leads an all-star cast in a live table read of 'Good Will Hunting,' the award-winning 1997 film about a young janitor from South Boston with a gift for mathematics. There's only one way to experience this extraordinary event: live and in person as no audio or video recording is allowed.
John took to Instagram to reveal that he had actually found the perfect cast member to play the leading woman in the film -- and it's none other than his actual leading lady Emily Blunt.
The post caption simply read,
So I'm casting this #LiveReadNY of Good Will Hunting, then ran into this #girlonthetrain and thought... yeah it's time to work together! October 7!! Livereadny.com "Howdaya like THEM apples?"
Here's the original Instagram post.
According to Refinery29, 33-year-old Emily Blunt will play the role of Skylar, which was originally played by actress Minnie Driver in the classic film.
If you've ever seen "Good Will Hunting," you know that Emily will have to re-tell this famously raunchy joke...
That should get interesting!
As for the rest of the cast, Krasinski will likely be unveiling new additions using his Twitter account. We'll just have to wait and see who gets to join the couple as they remake history.
If you're interested in witnessing the table read for yourself, the event, presented by The New York Times, will be held at the NYU Skirball Center in Manhattan. Ticket prices range from $65 to $150.
Citations: Emily Blunt Is Finally Working With John Krasinski (Refinery29)