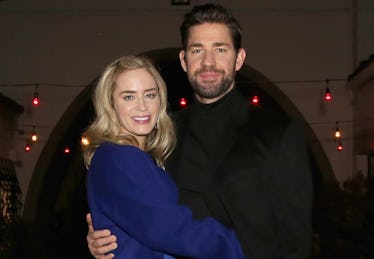 Emily Blunt's Reaction To Making John Krasinski Cry During 'Mary Poppins 2' Is So Lovely
Rachel Murray/Getty Images
Emily Blunt and the rest of her cast members are about to make you sob when you see them in Mary Poppins Returns. Don't believe Mary Poppins Returns is going to tug at your heartstrings? Think again! John Krasinski cried through the whole thing, and the tears didn't start by watching his wife descend from the sky via a kite like the truly celestial being she is. And what's even better, she loved that he cried during the whole thing. Emily Blunt's reaction to John Krasinski crying during Mary Poppins Returns is the sweetest reaction to an already-sweet reaction from Krasinski. Y'all, just believe them when they say Mary Poppins Returns is going to wreck you!!
In an interview with Nancy O'Dell for Entertainment Tonight, Blunt opened up about her husband's reaction to the film, which was to cry uncontrollably starting 20 minutes in. She said that she loved that it brought him to tears. "I love that, when guys cry," she said. "I think it's a beautiful thing, [when they're] not so tough, yeah!"
She continued, "Ben Whishaw's first song is so gorgeous when he's talking about the loss of his wife. I think he sort of cried from then onwards, you know. He's still crying now. He kept saying, 'What's happening to me?' when he was watching it." I have never been more ready to sob.
Krasinski stopped by The Ellen DeGeneres Show this week and revealed even more details about crying through all of Mary Poppins Returns.
He told DeGeneres that he and Blunt got to screen the film for their families over Thanksgiving, but when he previously saw it for the first time, the waterworks came a-flowin'.
"The first time I saw it, they give you a tissue box in the screening room, and I thought, 'Oh, that's very nice. I don't have a cold,'" he joked. "And they started screening the movie and 25 minutes into the movie, I stood up and went to the back of the room."
"Emily said, 'Do you not like it? I've never seen this happen?'" he went on. "I was pushing through all of the muffins and bagels that were in the back looking for napkins. I was like, 'I need anything to stop this crying!' I was crying so much I blew through the tissue box in 20 minutes, had to go to the napkins, and then when I ran out of napkins it was all sweater."
He then went on to say that the film is "pure joy" and that it's bound to get everyone in their feelings.
Don't expect to see a Julie Andrews part two on the screen, though. Blunt's one condition for taking on the iconic role was that she be able to play her own interpretation of the character and not just mimic Andrews' choices.
"It was sort of a dual feeling of, like, well, I desperately want to do it, but how do I carve out a new space for myself? How do I create my version of her?" Blunt told O'Dell. "I'd seen it as a child, so I have this sort of searing memory of her, but didn't want to watch it as an adult before playing her because I kind of knew I might be swayed by what Julie did and feel like I have to emulate or compromise what I was wanting to do with her, which I took from the books. They were a huge source, and she's very different in the books."
Mary Poppins Returns hits theaters on Dec. 19. Bring plenty of tissues.