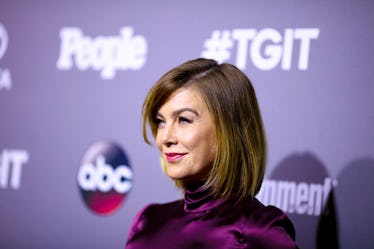 Celebrate The Return Of 'Grey's Anatomy' With Ellen Pompeo's Fave Energy-Boosting Foods
Mark Davis/Getty Images Entertainment/Getty Images
Calling all Grey's Anatomy stans: The long-awaited premiere of Season 15 is coming on Sept. 27. But, regardless of whether or not you're a diehard Grey's fan, I'm willing to bet you're interested in the show's frontrunner, Ellen Pompeo. Let's be real: Pompeo is more than just an excellent actress; she's used her platform to start conversations about topics that really matter, like workplace equality and the issue of the gender pay gap. It's because of these things that, when I stumbled across an old article about Ellen Pompeo's energy diet, I couldn't help but feel intrigued. Pompeo seems like the kind of woman who can gracefully juggle even the busiest, most hectic schedule, so whatever it is that's helping to boosting her energy, I need a bite, too.
Now, like I said, I stumbled across Pompeo's energy diet in a SELF article that was published way back in 2010, so, full disclaimer: I can't exactly confirm or deny that the Grey's star still sticks to this way of eating. Regardless, though, there's a lot to learn from some of the signature staples this actress has raved about.
For instance, according to SELF, bananas are one of the foods Pompeo has credited for keeping her energy levels up, and the 48-year-old actress is totally on to something: Lyuda Bouzinova, an ACE-certified fitness nutrition specialist, personal trainer, and co-founder of Mission Lean, tells Elite Daily over email that these on-the-go snacks are perfect when you need something to keep you going over the course of a long day.
"What you want to stay away from is anything unnatural, processed, and that comes in packaging with messages that promise to give you extra energy," Bouzinova explains. Add to that the fact that the yellow fruit is super cheap and absolutely delicious when paired with any type of nut butter, and it's easy to see why Pompeo has dubbed it an energy-boosting staple.
And, speaking of nut butter, I've got some great news for anyone who considers themselves to be just as obsessed with Grey's Anatomy as they are with almond butter: According to SELF, Pompeo eats almonds to boost her energy as well. What's more, there's science to back her up: According to the National Sleep Foundation, the high levels of magnesium that are found in nuts like cashews, almonds, and hazelnuts can help your body turn sugars into energy that you can use to rock the day.
Aside from bananas and almonds, Pompeo also apparently loves her some garbanzo beans, and given the benefits of the food, I can't say I blame her. Dr. Mike Roussell, Ph.D., co-founder of Neuro Coffee, tells Elite Daily over email that garbanzo beans are rich in fiber, which can help to balance out your daily energy levels. In other words, slipping some garbanzo beans into your dinner from time to time will ensure you're just as motivated to get sh*t done on a Monday as you are on a Friday.
Also on Pompeo's list of energy-boosting foods? Eggs and sardines. These protein-rich goodies, according to Dr. Roussell, can help prevent a blood sugar spike after meals, which in turn can have a huge effect on stabilizing your mood, in addition to your energy levels. "When you eat these kinds of foods," Roussell explains, "your blood sugar levels will be normalized compared to eating a lower protein diet."
Of course, you might be thinking RN that all of the almond butter and eggs in the world wouldn't be enough to keep you feeling like a functioning human on a daily basis — and, honestly, same. Remember, these are just suggestions based on what has apparently worked for Pompeo, meaning the real goal is to work these things into a diet that already satisfies you and your lifestyle to see if it can provide any additional benefits.
While all of these foods are great for boosting your energy, it's important to focus on keeping yourself energized. In other words, according to Dr. Roussell, you can't just fill your plate with one powerhouse meal packed with some of these tasty foods and expect the results to come immediately. Instead, he suggests, try to add in some of these foods with each meal over time, and see how it affects you. "By consistently eating foods like the ones discussed," he says, "you will be able to support consistent energy throughout the day."