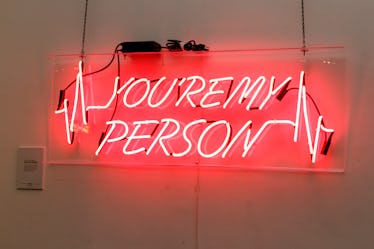 Grab Your Person, Because This 'Grey's Anatomy' Art Gallery Won't Be Here For Long
Rich Polk/Getty Images Entertainment/Getty Images
It's officially a wonderful time to be a Grey's Anatomy fan, despite the fact that Ellen Pompeo recently hinted that Season 16 of the long-running show might be its last and left longtime devotees seriously shook. If you're not ready to say goodbye to Shondaland anytime soon, this Grey's Anatomy pop-up art gallery in Los Angeles is here to make you laugh and cry all over again with your favorite moments from the past 13 years. However, you might want to grab your person and start making plans ASAP, because this exhibit isn't sticking around for the long-haul.
Cue the moody Snow Patrol and The Fray-inspired soundtrack, because PopSugar and THNK1994 Museum teamed up to bring your favorite memories of the Grey Sloan Memorial staff to life. The three-day art pop-up, which was created in collaboration with ABC to pay homage to the show's 15th Season, is opening to the public at 631 N. Robertson Blvd. in West Hollywood starting Friday, Sept. 21, according to PopSugar. Open daily from 11 a.m. through 7 p.m., the art installation, titled "Anatomy of An Icon," will run through the end of the weekend, aka Sunday, Sept. 23, so fans only have a brief window to get their Grey's fix in, tears and all.
I'll admit that I was pretty skeptical when I first looked into the details of the installation. McDreamy, aka Patrick Dempsey, won't be in attendance, which means that all my hopes for a IRL MerDer reunion are dashed. Instead, PopSugar hints that the event will be an "irreverent" homage to the series: life-sized recreations of some of your favorite doctors, as well as paintings and light installations of some of the show's most iconic moments and sayings (Yes, "You're my person" has been memorialized). The news outlet also says that there will be "interactive elements" from the show, which sounded sufficiently vague and interesting.
However, after taking one look at the photos coming from the event, I am more than ready to grab a stethoscope and jump back on this emotional rollercoaster.
Every cool piece is pretty much begging to be memorialized on Instagram, and just perusing through all the posts using the hashtag #GreysGallery on social media is making me want to spontaneously burst into "Chasing Cars." You know, because feelings.
Needless to say, fans are freaking out about the fact that a Grey's Anatomy pop-up art gallery now exists to make all of our McDreams come true.
Even Keanu Reeves couldn't resist making an appearance during the gallery's opening, because Grey's Anatomy is just that iconic, per a tweet from Jessie S. (@Jessie96971166).
If it's good enough for Keanu, it's good enough for me.
TBH, anything with this much Grey's content is more than good enough for me. Short of visiting the Grey-Sloan Memorial Hospital yourself, this looks like the closest you can get to the staff that you've come to know and love over the years. Again, the installation is only up and running through the weekend of Sept. 21 - Sept. 23. Also, because of its popularity, you'll need to RSVP with what date you want to attend before you go, according to PopSugar. Now, BRB while I fire up a Grey's marathon and book an impromptu flight to LA.