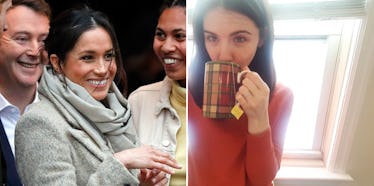 I Tried Eating Like Meghan Markle & Here's What Happened
Getty Images/Max Mumby/Indigo/Contributor/Julia Guerra
Part of me has always wanted to be royal. Sure, I'm daddy's little princess, but Burger King crowns and toy scepters can only inspire a pretend kingdom, and of course, dreams of the true love I'd watch unfold before my eyes in Disney cartoons like Cinderella and Sleeping Beauty. When I grew up, I came to realize "princess" wasn't just a title and a fancy chair. It was a job, and a hard one at that. I can only imagine what it's like to dress and eat like a princess, so I tried eating like Meghan Markle for a day to dip my feet into a royal diet. If I couldn't walk and talk like a royal, I could certainly eat like one, right?
OK, so technically, Markle isn't an official member of the royal family just yet (May 19 can't come soon enough), but up until a few days ago, she was the only almost-royal with social media accounts to stalk and all the foodtography to browse (she's since deleted all her social media profiles). Plus, she's the perfect example of a Cinderella story. I mean, hello, the woman went from Deal or No Deal case model to fiancée of Prince Harry of Wales. Not that getting married to a prince is the end-goal for all of us, but this is as close to a fairytale as real life gets, and I'm clearly reveling in it.
From what I've gathered, Markle's food regimen was fit for a princess long before Harry's proposal. She's obviously trained her taste buds to actually crave healthy foods, and not only does she believe in balance, she's one to practice what she preaches. After reading a bunch of interviews and scanning her social feeds when they were still active, I comprised a menu inspired by Markle and dedicated one day to eating, sipping, and indulging like a princess. Here's what my day looked like.