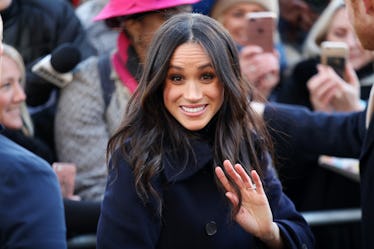 This Is What Meghan Markle Eats In A Day & Honestly, She Has Such Good Taste
Chris Jackson/Getty Images Entertainment/Getty Images
The countdown is officially on for the next royal wedding. Hearts will be breaking all over the world on May 19, when Prince Harry of Wales will officially say, "I do" to American actress Meghan Markle. Naturally, the world is pining for any and all nuptial details, like what the future princess's dress will look like, the couple's signature drink, and honeymoon plans, but fans of both the Suits star and the prince are curious about preparations, too, like what Meghan Markle eats in a day to help her play the part of princess. From what I've gathered, her future highness doesn't joke about food, and she certainly doesn't need princess lessons to teach her how and what to eat to keep her royally satisfied.
I'll admit that before Markle started dating Prince Harry, I didn't know much about her other than the fact that she was making out with Pretty Little Liar's star Troian Bellisario's IRL hubby on Suits (because the last six years of my life revolved around PLL, don't judge me). Now that the couple is engaged and getting married in only a matter of months, I did my homework on the new royal and, like the rest of the world, am now girl-crushing hard.
Not only is she an absolutely beautiful person inside and out, she's unapologetically who she is, and one of her strongest character traits, in my opinion, is her appetite. Guys, the woman can eat, and her Instagram is a collage of delicious-looking healthy foods that actually make me want to ditch cake for kale chips (but I won't, because she wouldn't either — it's all about balance in this princess's book).
One of my favorite things to know about people is what they like to eat on a daily basis — partially for my own meal inspiration, mostly because I'm just nosy. But if you clicked this article in the first place, chances are you're dying to know what this royalty-to-be snacks on every day. Here's what you need to eat in order to be eligible for the throne (JK, but kind of not really).