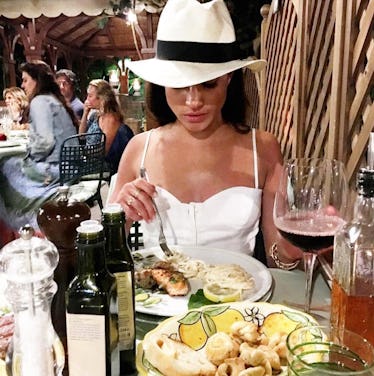 Meghan Markle's Go-To Breakfasts Are So Easy, You Can Definitely Make Them At Home
Meghan Markle and Prince Harry announced their engagement in November 2017, and while the internet has all but blown up since the declaration of another royal wedding, fans of the couple want to know everything about England's future royalty. The Suits actress has always been appreciated for her beauty, talent, and humanitarianism, but now, Markle and Prince Harry fans want the scoop on things like what Meghan Markle's breakfast looks like from day to day, and how she takes care of herself between princess lessons, wrapping up her final season of Suits, and spending time with her handsome prince.
Ah, celebrities — they're just like us. It sounds like an oxymoron, and I had my reservations myself, until Markle's diet piqued my interest, too. I'm thrilled to report that Markle is, surprisingly, as basic as it gets when it comes to her breakfast, and every go-to recipe she swears by is as easy to put together as it is delicious. Slay, queen (or, princess, I guess), slay.
Markle told Shape,
I definitely just try to avoid the things that I know are going to make me feel lethargic or sluggish.
I don't ever want to feel deprived... It's not a diet; it's lifestyle eating.
From my research, I've gathered that the future princess keeps her meals (for the most part) simple, healthy, flavorful, and of course, Instagram-approved. The following breakfast foods are some of Markle's favorites, and you don't have to be royalty with a team of chefs to whip them up yourself in the a.m.