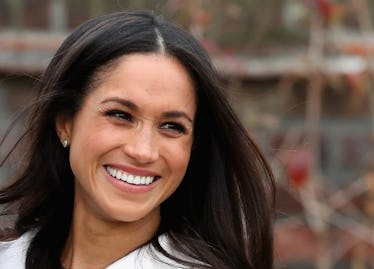 Meghan Markle Was Once On 'Deal Or No Deal' & The Internet Is Shook – PHOTO
Chris Jackson/Getty Images Entertainment/Getty Images
Another royal engagement means a lot of things — new Twitter threads to follow, wedding details to pay attention to, and (most importantly) a new royal fiancé to learn everything about. At 33 years old, Prince Harry has gone from most eligible bachelor (basically in the entire world) to happily betrothed. It is rare that a member of the royal family would marry an American actress, but Meghan Markle must be worth it. The actress lives a relatively low-key life, and we have been learning so much about the royal-to-be. Most importantly, Meghan Markle on Deal Or No Deal has probably been the most shocking revelation.
Don't get me wrong, I have no problem with the ladies on Deal Or No Deal, but Markle has experienced the ultimate Cinderella story. Small town (Los Angeles) briefcase girl gets set up on a date with a nice guy who also happens to be a member of the royal family. YOU KNOW, NORMAL EVERYDAY OCCURRENCES. If you're having a hard time wrapping your brain around the fact that Meghan Markle and Prince Harry were set up by a mutual friend — join the club. I have so many questions for this "mutual friend." How does this friend know Prince Harry? Is it Barack Obama? Will this person be in the wedding party? I'm seeking justice for Meghan and Harry's mutual friend.
While I may never get those questions answered — I have been enjoying getting to know our new actress-turned-royal.
Markle is best known for her role as Rachel Zane on Suits. Before landing that, she was a normal actress living in Los Angeles. What do normal actresses do? Get jobs to pay the bills. While "briefcase girl" looks like a very glam job, Markle admitted that it was more of a means to an end. She said in an interview with Esquire,
I would put that in the category of things I was doing while I was auditioning to try to make ends meet. I went from working in the U.S. Embassy in Argentina to ending up on Deal. It's run the gamut.
If you're confused about the Argentina part — Markle served as a political intern during her senior year of college, according to People. Markle obviously has beauty, smarts, and talent. I think that's why the "briefcase girl" thing is throwing everyone.
Ladies and gents, meet the next addition to the royal family:
SHOOK TO MY CORE.
Meghan Markle is truly a legend.
Needless to say, fans are just as amazed as I am. Twitter seems to be completely obsessed over this drop in Markle's career pool.
While slightly embarassing, you could argue that all the choices Markle made led her to Prince Harry — so, she wins. Overall, my favorite royal engagement response came from Markle's Suits co-star and on-screen fiancé, Patrick J. Adams (aka Michael Ross). He retweeted the marriage news from Kensington Palace and said,
She said she was just going out to get some milk...
So, so hilarious.
He did follow his joke up with an extremely heartfelt tweet congratulating his friend on her new chapter. He said in a tweet,
Playing Meghan's television partner for the better part of a decade uniquely qualifies me to say this: Your Royal Highness, you are a lucky man and I know your long life together will be joyful, productive and hilarious. Meghan, so happy for you, friend. Much love.
Markle has the most supportive on-screen partner and is engaged to a prince — and you can't even get a text back. It's OK, me either.
I am in a love affair with the royal family, and another wedding on the horizon is so exciting. Meghan Markle and Prince Harry seem very much in love and I think they are in store for a very happy future. LOVE YOU BOTH, CALL ME.
Check out the entire Gen Why series and other videos on Facebook and the Bustle app across Apple TV, Roku, and Amazon Fire TV.