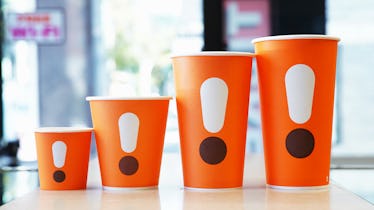 Dunkin' Is Offering Free Lyft Rides On Black Friday, So Get Your Caffeine Before You Shop
Image provided by Dunkin'
Black Friday and espresso go together like wine and The Bachelor, folks: They just make sense. And luckily, Dunkin' is making darn sure you're well caffeinated for your deal-hunting this year. Just in time for the launch of their new espresso menu, Dunkin's Black Friday 2018 deals include a slew of samplings and promotions to power you through.
As you may or may not have heard, Dunkin' has totally revamped their espresso, and along with introducing state-of-the-art equipment, an updated recipe, a fresh cup design, and their first canned espresso products, they're also introducing two new buzz-worthy beverages: the Iced Cappuccino and Iced Americano, both of which will be available starting Nov. 19. While the Iced Americano blends a double shot of straight up espresso with water for a distinctly bold beverage, the Iced Cappuccino combines espresso with milk for a frothy yet flavorful alternative.
But don't take my word for it: Dunkin' has a slew of special promos planned that will allow you to taste the new espresso offerings for yourself. Swing by any participating Dunkin' on Friday, Nov. 16 between 10 a.m. and 2 p.m., and you can try a free 4-ounce sample of the caramel-flavored iced latte (while supplies last). Then, on Saturday, Nov. 17, you can try a free sample of the White Chocolate-Flavored Iced Latte at participating stores, also between 10 a.m. and 2 p.m. Since you'll no doubt be needing a boost on Black Friday, you can order a free Lyft ride (up to $10) to any Dunkin' location between 4 a.m. and 3 p.m. on Nov. 23 by using the promo code SipDunkin (valid for the first 25,000 users) to get your caffeinated bev of choice. And since Nov. 23 also happens to be National Espresso Day, Dunkin' is offering espresso shots in any beverage for just 50 cents (at participating locations).
The deals #cantstopwontstop there, either. I don't know about you, but personally, I feel a tinge of guilt any time I splurge on a fancy latte, because it's tough to justify the price tag when I could order a simple coffee for less than half the cost. Fortunately, you can grab one guilt-free between Nov. 19 and 25, because Dunkin' is offering medium lattes or cappuccinos for just $2 all day long. The following week, you can still snag a $2 medium latte or cappuccino during the afternoon (between 2 p.m. and 6 p.m.). Meanwhile, keep an eye out for latte artist Michael Breach, who will be making special appearances at a number of Dunkin' locations throughout the holiday season to whip up some foam portraits for fans (see my masterpiece below).
Earlier this week, I had the opportunity to test out the new espresso experience firsthand and in a side-by-side comparison of the old espresso versus the new version, the improvements were undeniable. The new espresso had a heavier mouthfeel and richer flavor, with sweetness up front and a long finish with lingering chocolate and caramel tones. That bold flavor makes a big difference in their new beverages, too. One of the most significant changes to Dunkin's espresso upgrade is that the company shortened the water pull, which had a big impact on the taste. The result is a more flavorful espresso that's somewhat higher in sweetness and lower in bitterness.
If you're courageous enough to brave the Black Friday madness, it's safe to say you're going to need a little caffeine to keep you going. So Dunkin's espresso launch couldn't be more well-timed. Whether you're perusing Target for some simple stocking stuffers or hitting up Sephora to treat yo' self, Dunkin's bevs will no doubt help fuel all that decision-making and deal-hunting. And with that — go forth and shop 'till you drop... but first, espresso.