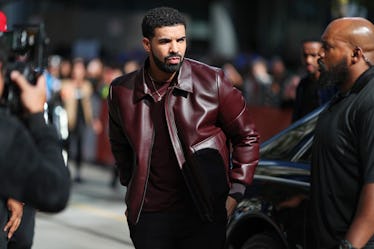 Here's What Drake's Zodiac Sign Reveals About His Love Life, & It's Pretty Steamy
Joe Scarnici/Getty Images Entertainment/Getty Images
Drake fans can already infer quite a bit about what he's like in a relationship based on his music. Everyone knows the rapper hates "Fake Love," and that when he's with you he'll think you're even more beautiful in "sweatpants, hair tied, chillin' with no makeup on." But Drake's zodiac sign (which is Scorpio, by the way) also says so much about who he is as a partner and a lover — revealing new things about him, and confirming what you probably already know, too.
The thing about Scorpios is that they're often intense and go from one extreme to another — and Drake is clearly no exception to this rule. He's pretty openly emotional (remember his Rihanna speech at the 2016 VMAs?), but also mysterious and private. (Will we ever really know what happened between him and J. Lo?) Sometimes he's the jealous type, but he's also not afraid of compromise. And while letting his guard down isn't easy for him, once he's there, falling in love is a cake walk. That's just the Scorpio way.
If you've ever wondered what it would be like to date Drake, here's your answer. One thing you can really be sure of? He'll never leave you hanging in the passion department.