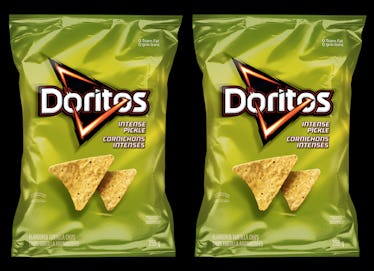 Pickle-Flavored Doritos Are Here For Everyone Who's Obsessed With The Flavor
I've said it once, and I'll say it again: Pickles are taking over. It seems like there's a new pickle-flavored food being discovered every day, and I'm definitely not complaining. I'm a total pickle person who welcomes the green-tinted products with open arms. That's why I was overjoyed to find out that Doritos' Intense Pickle tortilla chips are available. You read that correctly: Pickle-flavored Doritos actually exist, and I need to acquire a bag immediately.
Of course, there's one obstacle that I'll have to face in order to get a bag of the chips. Apparently, Doritos' Intense Pickle tortillas live in Canada, and I do not. That means I'll have to grab my passport and travel north in pursuit of the pickle-flavored snack. It'll be a trek, but it'll be worth it.
In all seriousness, it'll be tough to grab a bag of pickle-flavored Doritos if you aren't living in Canada, but that doesn't mean you have to plan a Canadian vacation in order to try some. According to Bustle, you can buy a bag of Doritos' Intense Pickle tortilla chips on Amazon through a third-party seller called Canadian Sweets Treats and other Specialties. The bag is $15.99, which is totally worth it.
Doritos' website also suggests three retailers from which Canadians can buy the chips: Walmart, Loblaws, and Grocery Gateway by Longo's. However, the company makes it clear that the snack might not be available in your specific area. Being the optimistic person that I am, I searched for availability in my town (in the U.S.), and they were unfortunately not available. Bummer.
The website also provides a description of the chips that will leave your mouth watering. It reads, "Enjoy the extreme crunch and explode-in-the mouth flavour as you and your friends dive into a bag of Doritos® Intense Pickle flavoured tortilla chips. Savour the tanginess of the intense pickle flavour in every bite."
Sigh. I guess I need to start planning my trip to Canada.
If you're not willing to travel to a different country to try Doritos' pickle creation, there are tons of other pickle-flavored goodies that don't require a passport. Take this pickle-flavored soft serve ice cream, which is available at Lucky Pickle Dumpling Co. in New York City. The dessert is light green in color — and apparently, it's delicious. I'd definitely travel to The Big Apple for a scoop.
There are also pickle-flavored goodies available that'll give you a buzz, like this pickle-flavored beer. "Sam-Sam The Pickle Man" is a Spicy Dill Pickle Sour that was created by Down The Road Beer Co. for Boston's Pickle Fair at the end of June. The beer was such a hit that the company began selling it at its brewery in Everett, Massachusetts after the event. However, customers loved the beer so much that the company already ran out of its supply. In other words, cross your fingers that the brewery brings its pickle-flavored brew back. If it does, I'm sure it'll be super refreshing after devouring a bag of Doritos' Intense Pickle chips.
Whether you're snacking on chips, eating some ice cream, or sipping on a pint of beer, the new "pickle" flavor is sure to bring your tastebuds to the next level. Cheers to to hoping the U.S. will make pickle-flavored Doritos available soon.