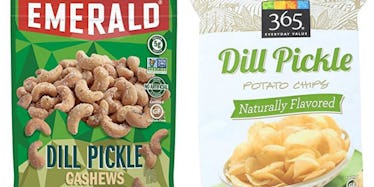 7 Pickle-Flavored Foods You Can Buy Right Now & Probably Need In Your Life
Amazon
Food trends come and go, but favorite flavors tend to stick around. One crunchy snack that seems to have an ever-devoted following is the pickle. You can enjoy it as a spear, sliced on your sandwich, or whole right out of the jar. It turns out, there are actually plenty of other ways to enjoy that salty, sour pickle flavor you crave. Here are seven pickle-flavored foods you can buy right now to take your pickle obsession to another level.
If you're into pickle-flavored foods that don't immediately sound like they'd work, you're not alone. Pickle-flavored foods are having a total moment right now, and plenty of people are very much into it. For example, Lucky Pickle Dumpling Co. in New York City is serving up pickle-flavored soft serve. Yep, you read that right. Pickle-flavored ice cream actually exists, and it's getting some rave reviews.
Not only does pickle-flavored ice cream exist, but there is an entire restaurant devoted to the pickle. Jacob's Pickles in New York City is from the same group behind Lucky Pickle Dumpling Co.'s pickle-flavored ice cream. Jacob's Pickles truly celebrates the crunchy condiment. The restaurant's website reads,
A pickle is more than just 'a pickle.' For us, pickles have a real place at the table. Thoughout history, pickles have had a major role in food culture. We're inspired by the pickle and use it to help us elevate comfort food to new levels.
Well, you can take all of your foods to new levels with these tasty pickle-flavored foods.